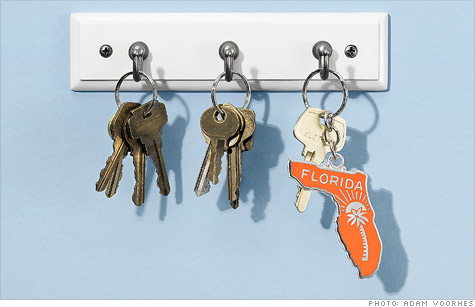 (MONEY Magazine) -- Even if you're a decade or more away from quitting time, you may be thinking about buying a retirement home right now.
The prices for condos in popular retirement areas like Napa, Calif., and Naples, Fla., have come down 44% or more since the boom, substantially more than the average 32% that home prices have fallen nationwide, according to the latest data from Fiserv. And mortgage rates recently hit record lows once again.
For baby boomers in particular, "Many realize that they'll never see this scenario again in their lifetimes," says Jim Gillespie, CEO of Coldwell Banker Real Estate.
If you vacation in the same place several times a year and can pay for some or all of a property in cash, owning might not cost much more than hotel stays, especially as you get closer to chucking your briefcase and use the place more frequently.
Still, no matter the price, buying now isn't a no-brainer. The costs of owning two properties can be greater than you'd expect, even if you plan to rent one out most of the time. Before you shop, answer the following questions.
Can you truly afford it?
You should be socking away the max in your 401(k)s and IRAs, particularly during your prime earning years. If a second home makes that impossible, don't buy, says Grand Rapids financial planner Ryan Sheffer.
Moreover, the true cost of home ownership doesn't end with the mortgage payment, taxes, and insurance. You'll probably spend several thousand dollars a year on everything from regular lawn care to ongoing utility bills.
Rental income can offset the cost of ownership, of course, but bear in mind that the average rental property has a tenant for fewer than 20 weeks a year, according to rental site Homeaway.com.
Plus, unless your second home is near your primary house, you'll need to travel to look after it, or fork over 10% to 15% of the monthly rental fee to a property manager. To get a snapshot of the rental market in a given area, look up vacancy rates under "housing" at Census.gov and talk to local real estate agents.
With a condo, make sure the development allows rentals (not all do) and find out what kind of restrictions apply. "Some may insist renters sign a two-year lease, that you can have no children or pets, and that you have to pay a fee to move in and out," says Lester Giese, author of "The 99 Best Residential & Recreational Communities in America."
Will prices drop much further?
According to Moody's Analytics, the national average home price is expected to start rising slowly by the end of 2012.
Ask The Help Desk your questions
But places with high vacancy and foreclosure rates, which include some cities in Florida and Arizona, may continue to see declines far beyond that, says Celia Chen, senior director of Moody's.
Look on RealtyTrac.com to find out whether foreclosures are still rising in the area where you want to buy -- if so, prices may continue to decline as well.
Is there a reason to walk away?
Would-be condo owners should also check on the health of a complex's finances.
Request recent reports from homeowners meetings, says Adam Leitman Bailey, a real estate attorney and author of "Finding the Uncommon Deal"
The reports should detail maintenance problems and alert you to special assessments or steep common-charge increases -- signs of a flagging reserve fund.
How will you pay?
With stock market returns paltry, many investors are pouring money into housing. All-cash deals recently made up 30% of purchases, says the National Association of Realtors.
Buying your retirement home free and clear may make sense as long as you'll have enough savings left over to cover a year's worth of living expenses.
Given how low rates are today, however, financing is probably the smarter move, especially if you can swing a 15-year mortgage. Fifteen-year rates were recently just 3.45%, about half a percentage point below 30-year loans.
"That's real cheap money," says Sugar Land, Texas, financial planner Wayne Copelin. Plus, you'll free up a big chunk of cash early in your retirement years.
Corrected on Dec. 12, 2011: An earlier version of this story misspelled Wayne Copelin's name, as well as Sugar Land, Texas. We regret the error.