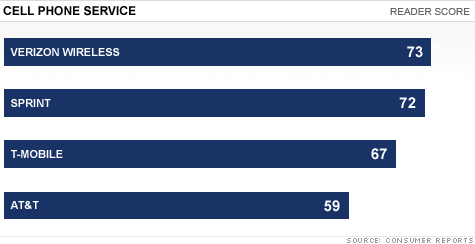 NEW YORK (CNNMoney) -- AT&T remains the worst carrier in the United States, according to an annual customer satisfaction survey compiled by Consumer Reports and released on Tuesday.
The mobile provider ranked dead last for the second year in a row, and its rating fell from 2010. Actually, customer satisfaction with all four national carriers fell this year, with third-ranked T-Mobile sliding by the largest margin. Still, T-Mobile ranked well ahead of AT&T (T, Fortune 500), according to Consumer Reports' survey.
AT&T took the news in stride.
"While we'll of course evaluate and learn from the Consumer Reports survey, we made significant progress in our network in 2011," said Mark Siegel, spokesman for AT&T.
Siegel noted that AT&T made 48,000 network improvements last year, resulting in a 25% improvement in 3G dropped call performance. But participants in the survey weren't impressed, giving AT&T an overall score of just 59 out of 100. Consumer Reports readers gave the carrier the worst-possible rating for value, voice quality and customer support for phones.
Verizon Wireless again topped the survey among the national carriers, even as its ranking fell by a point to 73 out of 100. Verizon (VZ, Fortune 500) has led the customer satisfaction survey in almost every year except since 2003. The company had the best-ranked customer service among its peers, though it received only average ratings for phone support and issue resolution.
Sprint (S, Fortune 500) held onto its second-placed rating, while besting its three competitors for value. T-Mobile fell into a distant third this year, ranking poorly in value, voice quality and customer support.
Despite customers' dissatisfaction with both AT&T and T-Mobile, AT&T's Siegel said that the proposed combination of the two would be greater than the sum of its parts.
"As customer demand continues to skyrocket, our proposed T-Mobile merger will enable AT&T to improve our customers' experience even more," he said.
The Department of Justice and the Federal Communications Commission have taken issue with that notion, arguing that prices would go up and customer service would suffer if the two companies combined.
While consumers were growing more dissatisfied with the big providers, this year's report revealed that smaller, regional carriers like Consumer Cellular, U.S. Cellular (USM), and Credo all ranked ahead of their larger, national rivals.
"Our survey indicates that subscribers to prepaid and smaller standard-service providers are happiest overall with their cell-phone service," said Paul Reynolds, electronics editor for Consumer Reports. "However, these carriers aren't for everyone."
Service on those networks can be limited outside of their region, and the carriers typically don't have the high-end smartphones that the four national providers offer.
But that's starting to change. Tiny, Mississippi-based carrier C Spire recently began selling Apple's (AAPL, Fortune 500) iPhone 4S.