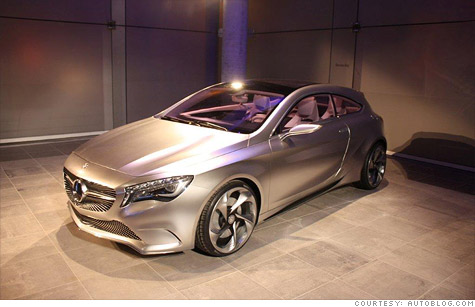 The Mercedes-Benz A-class concept, unveiled at the New York Auto Show last April, provides some idea what Mercedes' new small car will look like. (Photo by: Autoblog.com)
NEW YORK (CNNMoney) -- Over the next few years, Mercedes-Benz will bring a line of new compact cars to America, vehicles much smaller than the German luxury manufacturer has ever sold here before.
The cars are supposed to help Mercedes, a division or Europe's Daimler (DDAIF), meet tough new corporate fuel economy standards while also bringing new customers into the "Mercedes-Benz family."
And industry analysts think America is finally ready for pint-sized luxury.
"Size is no longer as much of a status symbol as it used to be," said Jeff Schuster, an analyst with industry consultants LMC Automotive.
The recession -- and rising gas prices -- have caused luxury shoppers to reconsider their priorities, agreed Bill Visnic, an analyst with the automotive Web site Edmunds.com
"It's not really cool right now to bring a brand new big-ass Mercedes into your driveway," he said.
These new Mercedes models will be anything but big.
Today, Mercedes' smallest -- and most popular -- model is the C-class, a compact car. In Europe, Mercedes sells even smaller cars, called the A-class and the B-class, and will begin selling redesigned versions of these subcompact hatchbacks in the U.S. in the next couple of years.
"It's going to have a fun, sporty, stylish execution," said Steve Cannon, head of marketing for Mercedes-Benz USA, of the new A-class. A concept version of the car was unveiled at the New York Auto show in April. The production car will be somewhat less dramatic looking and will have four doors, not two.
Mercedes has done its homework, said Cannon, and is confident these cars will be well received.
"I've done a ton of work with customers," he said. Mercedes-Benz dealers, also, have thoroughly gone over the new models and are pleased, he said.
Mike Jackson, chief executive of AutoNation (AN, Fortune 500), the largest auto dealership group in America, said he has pushed Mercedes to speed up introduction of the A-class here.
"Great design," Jackson said in an email, "and it gives Mercedes customers more selection."
Before joining AutoNation, Jackson was CEO of Mercedes-Benz USA.
Mercedes isn't the only luxury car maker going smaller. Both Audi and BMW have introduced small cars -- the Audi A3 and the BMW 1-series -- but those models haven't exactly set the sales charts afire, said Visnic. But they don't need to.
"For the most part, it's incremental for them because these are cars that are, first and foremost, designed for Europe," he said.
Besides the recession and gas prices, newer cars, such as the Ford (F, Fortune 500) Focus, have paved the way for customers to see small cars in a different light, said Schuster. The Focus is available with features, like hi-tech voice-integrated phone and stereo connections, that used to come only on high-end cars. It even has an available self-parking feature, something few cars offer at any price.
"We're seeing higher price points and more content on cars in general," Schuster said.
One advantage for the Mercedes cars will be the Mercedes badge itself, said Thilo Koslowski, an industry analyst with Gartner. The three-pointed star will remove any expectation that these cars will be cheap, something Americans usually expect of small cars.
But, to succeed, the cars will have to be good enough to warrant the badge.
"Once you break that barrier," he said, "you also have to deliver."