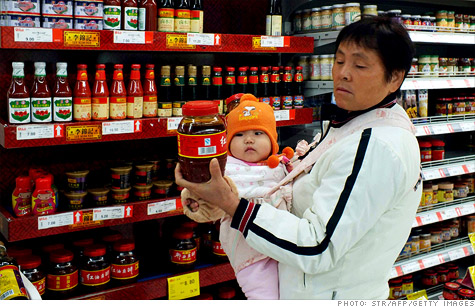 Food prices fell in China in November, according to inflation data released early Friday.
NEW YORK (CNNMoney) -- Inflation in China is losing some of its momentum, triggering a shift to worries focused more so on the country's slowing economic growth.
Prices were up 4.2% from a year ago in November, according to the Consumer Price Index released by China's National Bureau of Statistics early Friday.
Compared to 3.5% inflation in the United States, that may seem fast, but for Chinese consumers -- it marks a welcome slowdown, since prices were up as high as 6.5% in the 12 months ending in July. In fact, November's inflation rate is the lowest since September last year.
Prices on agricultural commodities have come down recently, leading to a slower rise in food prices in China. Food prices were up 8.8%, year-over-year, in November; whereas just five months earlier, they were up a staggering 14.8%.
Food makes up roughly a third of the government's official CPI figure, but in reality, it accounts for much more of a typical Chinese family's spending. But while lower inflation is offering some relief to their wallets, it does not come without its own dark cloud.
In the Chinese government's fight against rapid inflation, officials had tightened credit in the country's financial system, and tried to take some of the steam out of a domestic housing boom.
Those efforts now appear to be contributing to economic growth that's slowing more quickly than hoped, at a time when the country is also being hit by weakening demand from Europe and the United States.
The last official reading on gross domestic product, showed the Chinese economy grew 9.1% in the third quarter -- still fast, but a significant slowdown from the first six months of the year. And a report on Chinese manufacturing, showed that sector actually contracted in October, marking its weakest performance since 2009. A separate report out Friday, showed industrial production slowed sharply in November.
So while lower inflation is exactly what the Chinese government had ordered, it may now have to change its focus to supporting economic growth instead.
"Looking into 2012, China's top macro risk is shifting quickly from inflation to growth," Qu Hongbin, HSBC's co-head of Asian Economics Research, wrote in a note to clients.
The People's Bank of China has already started to reverse its tightening policies. Last week, it said it would cut the amount of money that banks need to hold in reserve -- the first cut in the so-called reserve requirement ratio since 2008.
All eyes are now on the Central Economic Working Conference expected to convene next week, where the government sets its goals for economic policy for the upcoming year.
"We believe the shift of the policy focus away from fighting inflation and towards maintaining stable growth will likely to be made official when the country's most senior officials meet at the Central Economic Working Conference next week," Yu Song, an analyst with Gao Hua Securities in Beijing, wrote in a research note.