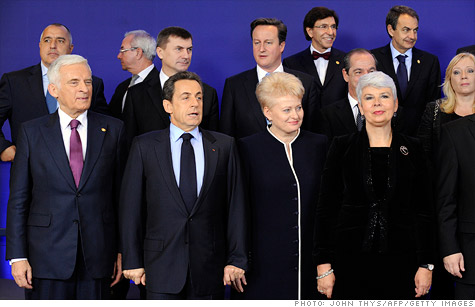 European Union leaders, including President Nicolas Sarkozy of France and U.K. Prime Minister David Cameron, pose for a 'family photo' during a summit Friday in Brussels.
NEW YORK (CNNMoney) -- Early Friday morning, a group of European politicians issued a statement, and knees jerked in financial markets around the world.
After an all-nighter in Brussels, European Union leaders, at least most of them, agreed to a new "fiscal compact." They also produced a few "stabilization tools" to repair the creaking structure of the euro currency union.
The deal was welcomed by investors in Europe and the United States, with U.S. stocks rising sharply, although euro area government bonds remained under pressure.
But many market analysts don't expect the rally to last, since the latest political "breakthrough" is focused more on preventing a future crisis, rather than resolving the current one.
"Even if everything is fully implemented, it doesn't do anything about the near-term crisis," said Jennifer McKeown, senior European economist at Capital Economics in London.
In particular, the European Central Bank remains unwilling to make an unlimited commitment to buy euro area government bonds. Investors have been pining for a financial "bazooka" to blast their debt woes into oblivion, but the ECB is the only institution with this type of firepower.
On Thursday, ECB president Mario Draghi underlined his opposition, saying the bank's charter prevents it from directly financing national budgets.
"If the ECB refuses to step up its anti-crisis response, the deal may not be good enough to reliably end the euro crisis," said Holger Schmieding, chief economist at Berenberg Bank.
Draghi also announced a series of "non-standard" measures to boost liquidity in the European banking system, which has been strained by increasingly chilly conditions in bank funding markets.
The central bank's moves Thursday were more important than anything the politicians announced Friday, said Daniel Gros, director of the Center for European Policy Studies.
The ECB has signaled to investors "that the banking system won't collapse," he said. "There is no bazooka but at least investors know the downside is limited."
The fiscal pact, outlined earlier in the week by Germany and France, is designed to ensure that governments do not spend beyond their means and rack up unsustainable debts.
The terms include, among other things, a balanced budget requirement with an "automatic correction mechanism," and a provision to make national budget policies subject to EU authority "ex ante," or before the fact.
"It is about more fiscal discipline, more automatic sanctions, stricter surveillance," said European Council president Herman Van Rompuy, adding that an intergovernmental treaty would make the agreement binding.
The pact will be adopted by the 17 nations that use the euro currency. The 10 remaining EU members also appear willing to abide by the agreement, with one notable exception.
The United Kingdom refused to sign on after its demand for a provision that would allow banks to opt-out of new regulations was rebuffed.
In addition to the fiscal pact, the leaders also announced widely expected plans to move up the start date of a permanent bailout fund, called the European Stability Mechanism.
There was some confusion about whether the €500 billion ESM would run alongside the existing European Financial Stability Facility, which could result in a financial firewall of about €750 billion, analysts said.
The EU leaders also agreed to provide additional resources for the International Monetary Fund, with member states contributing up to €200 billion worth of "bilateral loans."
"It does look like there's a little more money on the table," said Grant Lewis, head of research at Daiwa Capital Markets.
But the amount on the table is not enough to cover the financing needs of troubled euro area governments and European banks, which have billions of euros worth of debt coming due next year, he added.
The danger is that one or more banks may need to be bailed out, putting additional strain on already cash-strapped governments. That could result in downgrades of national credit ratings, something the main ratings agencies have already warned about.
A downgrade would make it harder for governments to raise money in the private market, and revive worries about a government default in the eurozone.
While the latest deal is a step in the right direction, many experts say it does not go far enough to resolve the immediate crisis and that more turmoil is to come next year, if not sooner.
"I expect that we'll see more problems here," said Alan Brown, chief investment officer at London-based asset management firm Schroders. "I don't think this is over at all."