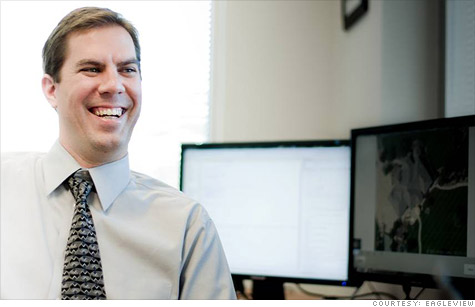 EagleView founder Chris Pershing changed how the roofing industry operates with a software breakthrough.
NEW YORK (CNNMoney) -- Sometimes one bright idea -- and a whole lot of work to implement it -- can reshape an entire industry.
In 2006, roofing salesman David Carlson vented to his brother-in-law about his frustrations from climbing onto rooftops and manually measuring to give estimates on repair work. Measuring by hand is a tedious process. Plus, people fall off roofs.
Carlson's brother-in-law, Chris Pershing, happened to be a software engineer. He did more than listen: Pershing set out to build a software program that would literally change the way the $30 billion roofing industry views America's rooftops.
Today Pershing's company, EagleView, uses aerial photography and 3-D modeling to produce on-demand reports for accurate measurements of almost every roof in the country. No ladder, no tape measurers and no perilous, time-consuming estimates.
"Having an Eagle View report has become an industry accepted standard," says Kirk Belz, a partner at Mid-America Adjusting Services, an Ozark, Mo., company that investigates claims for national insurers.
EagleView's reports, priced at $20 to $80 each, are now used by around 50,000 roofers and almost every single large insurance company. Sales are on track to hit $40 million this year, up from $1.4 million three years ago, and the 175-person company plans to hire another 40 to 50 sales and software people in the coming year.
Back in 2006, when Pershing first considered the idea of automating rooftop measurements, he was sure someone had already invented it. He hunted the Internet for software that used photographs to generate estimates but found nothing.
So he began experimenting with sites like Microsoft's (MSFT, Fortune 500) Bing and Google (GOOG, Fortune 500) Earth, searching for satellite images. What he discovered surprised him: aerial photography, rather than satellite imagery, could provide better pictures and more accurate measurements.
"I thought there was certainly a huge opportunity out there," says Pershing, 39.
Pershing studied one of his wife's birdhouses, staring at the roof from different angles. He took snapshots in his head of those angles and then sketched various viewpoints of the roof. Over the next few months, he holed up at his computer on nights and weekends, developing software that would use algorithms to infer the size, shape, pitch and area of the roof.
He practiced his algorithms on a few addresses, including his own and his neighbors'. He even pulled up imagery of pyramids in Egypt, estimating the height of the pyramid to within a couple of bricks. He got the slope of his neighbor's homes almost exactly.
By the end of 2007, Pershing quit his job making software for ultrasound machines and started EagleView in a small rented office outside Seattle. He convinced family and friends to invest $200,000 into his new venture and set out to buy rights to aerial photographs normally used by states, counties and the U.S. Geological Survey.
When Pershing began telling contractors and insurance claims adjustors about his technology, they were skeptical. The industry had for decades measured by hand.
"I thought, 'There is no way,'" says Belz, the Missouri claims adjustor. But once a few big insurers embraced the technology, Belz and others began to follow.
Pershing hired tech veteran Chris Barrow to be CEO in 2008 and changed roles to become chief technology officer. Barrow then raised $6 million from investors.
"One of the smartest things Chris did was step away," says Roger McOmber, an angel investor in Dallas. "It's hard to do, but it's that team mentality."
Today, EagleView customers can order reports online or through a smartphone app and can get a PDF report delivered in an hour. A dozen competitors, including sites like GeoEstimator.com and Roofwalk.com, offer similar services. Despite the competition and the recession, EagleView's sales grew at a 200% clip last year.
Belz, the claims adjustor, says he can process 25% more claims each day without ever sending an adjustor onto a roof -- saving at least 45 minutes per job. "It really speeds the day up for adjustors," he says. "And going onto the roof is one of the most dangerous parts of the job."
The software also produces more precise estimates than workers with tape measurers, says James (Arry) Housch, who owns Arry's Roofing Services Inc. in Tarpon Springs, Fla. Instead of handing a customer a piece of scratch paper with some numbers and a business card, Arry's Roofing salesmen give potential customers a professional PDF report.
"It sets us apart from the competition," Housch says.