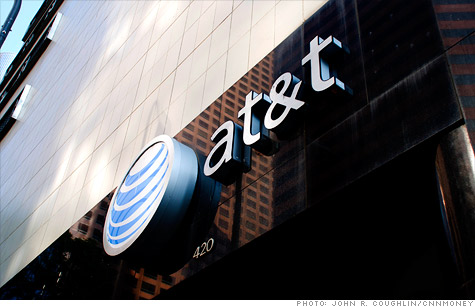 NEW YORK (CNNMoney) -- In a sign that its bid to buy T-Mobile is dying, AT&T teamed with its adversary, the U.S. Department of Justice, to put their antitrust court battle on hold until the middle the middle of next month. In that time, AT&T said it will "evaluate all options" and consider revising its deal.
In plain English, the delay means AT&T is searching for Plan B. It wants to find a way to scoop up T-Mobile's assets without running afoul of regulators -- a move that will probably involve scrapping its takeover bid.
AT&T has been scrambling for weeks to save its proposed $39 billion deal, which would make it by far the most dominant U.S. wireless carrier. The company's latest strategy ran into an iceberg on Friday, when a federal judge suggested that she might dismiss the antitrust case AT&T needs to win to keep its merger alive.
U.S. District Court Judge Ellen Huvelle criticized AT&T's request to keep the antitrust suit going even though AT&T had withdrawn its application to the Federal Communications Commission for approval of the T-Mobile merger.
"We all know that's a [condition] for this deal to go through," Huvelle said.
AT&T (T, Fortune 500) pulled its FCC application last month after the regulator came out in opposition to the merger and prepared to call for a potentially nasty public hearing. That could have damaged AT&T's prospects in its antitrust fight with the DOJ, which also opposes the deal.
Many independent analysts saw the maneuver as a ploy to force the FCC's hand: If AT&T won the court battle, the FCC would likely have to relent and approve the merger.
But the DOJ fired back. It told the court that its antitrust lawsuit against AT&T was unnecessary if AT&T was no longer applying for the merger. Judge Huvelle signaled her agreement, noting that if AT&T resubmitted its FCC, the whole antitrust proceeding might have to begin all over again.
"You could change the deal in a month and everybody's time will be wasted," she told AT&T's lawyers on Friday. "We don't have any confidence that we are spending the time and effort and the taxpayers' money, as well as the money of these other parties -- we have no confidence that we're not being spun."
The DOJ had planned to file a motion to dismiss AT&T's case on Monday. Instead, AT&T and T-Mobile's parent company, Deutsche Telekom, jointly requested with the DOJ that the court hold off on any proceedings until Jan. 18, 2012, "to allow the two companies time to evaluate all options."
Judge Huvelle granted the stay.
"We are actively considering whether and how to revise our current transaction to achieve the necessary regulatory approvals," AT&T said in a written statement. "AT&T is committed to working with Deutsche Telekom to find a solution."
AT&T and T-Mobile will have to submit a status report by Jan. 12, telling the court whether it intends to proceed with the current merger, pursue a revised deal, or drop the whole thing entirely.
Some analysts have suggested that that the two companies could propose a watered-down version of their merger, in which AT&T could buy all of T-Mobile's network assets and T-Mobile would become what's known as a "virtual network operator."
Though AT&T would own all of T-Mobile's cell towers and spectrum, T-Mobile could sell its service independently and essentially pay rent to AT&T to use their infrastructure. AT&T would get the assets it was looking for in the first place, T-Mobile would only have to handle marketing and customer support, and Deutsche Telekom would get the huge cash infusion it wants.
What's more, the antitrust issues might be alleviated, since T-Mobile could continue to operate as a separate company.