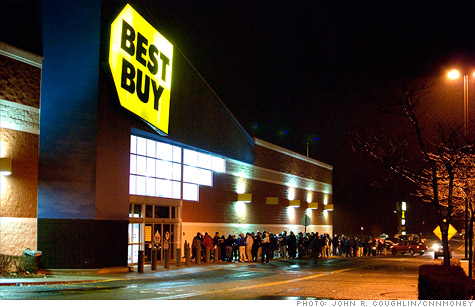 Black Friday sales couldn't help Best Buy avoid drops in sales and earnings.
NEW YORK (CNNMoney) -- Electronics retailer Best Buy reported a large drop in quarterly earnings Tuesday, as weak sales in the months leading up to Thanksgiving cast a shadow on the all-important holiday season.
Shares of Best Buy (BBY, Fortune 500) tumbled $3.23, or 11.6%, to $24.83 in early trading. Shares are now down more than 27% since the start of the year. Investors fretted the company's future even though Best Buy confirmed its full fiscal-year earnings guidance.
Best Buy posted operating income of $328 million, or 47 cents a share, in the period ended Nov. 26, down 13% from a year earlier. Analysts surveyed by Thomson Reuters had forecast earnings of 51 cents a share.
While revenue was up 2%, higher expenses, including $137 million in restructuring charges, drove down its profit margin to 2.7% from 3.2% a year earlier. Hurting, in particular, was the promotion of free shipping on online orders.
"The shift online with free shipping was a significant negative to the gross margin," said David Strasser, a retail analyst with Janney Capital Markets, in a note to clients Tuesday. He said the lower margins are likely to be seen at other retailers as consumers shift more of their shopping online.
Domestic stores open a year or more reported sales growth of only 1%, a closely watched retail measure known as same-store sales. It was able to post that gain only with the help of mobile phone sales, which were up 9%.
The report came as the Commerce Department reported much weaker-than-expected overall retail sales, even as electronics and appliance stores reported a better gain than most other retailers.
Strasser said he wasn't particularly worried about either the sales results from Best Buy or in the Commerce Department reading.
"The consumer is conditioned to wait for holidays to shop," he said. "The weaker November retail sales result shows that the strong Black Friday weekend was offset by weaker sales industry wide in the weeks leading up to the holiday weekend."