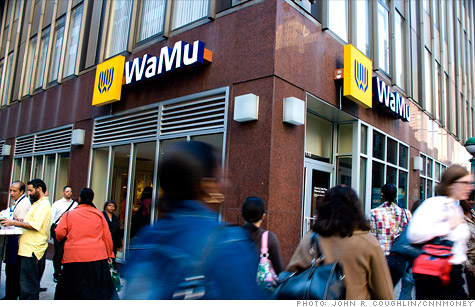 The Federal Deposit Insurance Corp. is getting ready to settle with former WaMu executives for $64 million.
NEW YORK (CNNMoney) -- The Federal Deposit Insurance Corp. is preparing to settle with three former executives who ran Washington Mutual, the biggest bank failure in U.S. history, for the return of $64 million worth of golden parachutes, bonuses and retirement funds.
Senior FDIC officials, during a teleconference with reporters Tuesday, said the settlement with WaMu ex-CEO Kerry Killinger, ex-president Stephen Rotella and David Schneider is pending, and is expected to be completed within days.
"We have reached an arm's length agreement with the three officers of WaMu," said an FDIC official, adding that the settlement will "ensure the surrender of the golden parachute." The official was quoted on condition of anonymity.
As part of the deal, Killinger will have to give up his retirement package, Rotella and Schneider will have to let go of their golden parachutes, and Schneider will also have to hand over his bonus.
The FDIC officials said the settlement with the executives is in addition to $125 million settlement reached with Washington Mutual.
The recovered funds will go into receivership and will be used to pay back WaMu creditors, according to the FDIC.
The FDIC was originally seeking a $900 million settlement when it sued the three WaMu executives for managing the bank negligently and hiding assets from their creditors. They are accused of destroying the massive bank through an expansion of risky loans.
The officials would not comment on the disparity between the pending settlement and the amount they were originally seeking.
"At this point in time we believe that the settlement maximizes the recovery for the receiver," said a FDIC official.
Claims will be dropped against the executives' wives, according to FDIC, and there are no allegations of fraud.
WaMu is now part of JPMorgan Chase (JPM, Fortune 500), which acquired the firm on Sept. 25, 2008, following its collapse.
JPMorgan spokesman Tom Kelly said there was "nothing for us to say" because the executives are "long gone" from WaMu.
The collapse of WaMu was due largely to a high-risk lending strategy pursued by the company's management, according to a government report released last year.
Regulators said that strategy, combined with the housing and mortgage market collapse in 2007, resulted in huge losses for WaMu, drove its stock price down and prompted a rush of withdrawals by jittery depositors. As a result, the OTS closed WaMu and the FDIC arranged for JPMorgan Chase to buy it in a closed bank transaction.
Steven Caplow, a lawyer for Schneider and Rotella, did not return messages from CNNMoney.
Barry Kaplan, attorney for Killinger, declined to comment.