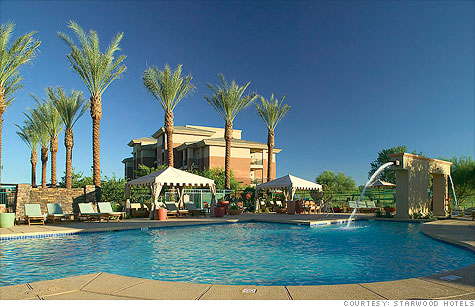 The Westin Kierland Villas, Scottsdale, Arizonia.
(MONEY Magazine) -- Vacationing with your kids? Cut your costs by renting a time-share instead of hotel rooms. You'll save money on lodging -- and spend less on meals by cooking in.
Explore options online
Time-share owners hawk their slots on Craigslist, but you get a wider selection -- and fewer worries -- via sites working with property managers.
Send The Help Desk questions on affordable vacations.
Rent units by the week, or night, at resortime.com, evrentals.com, or condodirect.com.
The find: $1,862 for a week in a one-bedroom unit, with a sleeper sofa, at Lake Tahoe Vacation Resort in South Lake Tahoe, Nev., vs. $2,814 for two rooms at a nearby inn.
Save: 34%
Expand your horizons
Orlando and Las Vegas may be the time-share capitals of the U.S., but these resort hotspots don't have a monopoly on the idea. You can find time-shares in places such as Newport, R.I., and Traverse City, Mich.
The find: $2,377 weekly for a one-bedroom unit at Wyndham La Belle Maison in New Orleans, vs. $3,953 for two rooms down the street.
Save: 40%
Learn the lingo
A smart search will uncover more time-shares on major travel sites such as Travelocity (look for "kitchenettes") and sites of big hotel chains (try keywords such as "vacation club," "residence," or "villa").
The find: $3,040 for a week in a one-bedroom unit at Westin Kierland Villas in Scottsdale, vs. $7,470 for two rooms at an adjacent Westin resort.
Save: 59%
Notes: Prices were found in October for Feb. 17 - 24 stays (over Presidents' Day); time-shares are one-bedrooms with a sleeper sofa.
You need to jump on a plane for a family emergency -- but ticket prices are sky-high. If you've exhausted your frequent-flier miles, try these options:
Urgent airways
Bereavement fares: Though rarer and less generous than in the past, these discounted tickets are still sold by major carriers such as American, Delta, and United. Prices aren't the lowest you'll find, but you can change returns penalty-free -- helpful if you don't know how long you'll be staying.
Last-minute packages: Hotel-flight combos can cost less than a ticket alone, since the package airfares are pre-negotiated, says Rick Seaney of FareCompare.com.
A combo deal from Philadelphia to Las Vegas on LastMinuteTravel.com in October, for example, ran $470, beating Kayak.com's best fare of $528.
First-class treatment: If you can't fly cheap, fly well. Buy a Y-Up fare: a last-minute, discounted first-class ticket priced nearly the same as a fully refundable coach fare. (Y-Ups are listed on Kayak.com among first-class fares; click on "details" to find fare codes.)
These scarce seats get even scarcer if you're flying within 36 hours, the time when elite passengers are typically upgraded.