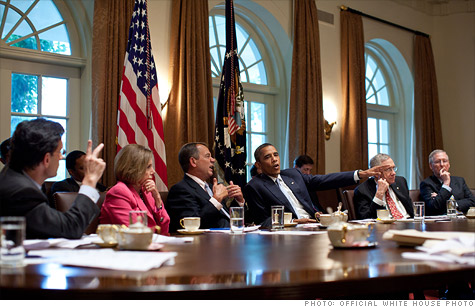 Washington at work.
NEW YORK (CNNMoney) -- Following a well-developed pattern, lawmakers are spending the last few days of the legislative calendar engaged in a high-stakes game of political chicken.
What's on the line? A government shutdown and tax hike for working Americans.
And even though the leadership of both parties generally agree a shutdown and tax hike must be avoided, arguments over the fine print have led to a series of ultimatums, threats and red-hot rhetorical flashes from lawmakers and the White House.
Here's the deal: For the eighth time this year, Congress must approve some sort of spending plan. The deadline is Friday, and the consequence of failure is a government shutdown.
Meanwhile, lawmakers are negotiating an extension of the payroll tax holiday. If they fail to pass a bill, working Americans will be paying $1,000 more in taxes next year.
Complicating matters, Democrats are using the government funding measure, which had been negotiated over the course of many months by members of both parties, as leverage in the fight over the payroll tax extension.
House Republicans, meanwhile, have loaded up the payroll tax cut bill with GOP policy priorities -- like a provision that would speed the process for approval of the Keystone XL oil pipeline.
Because of those additions, the bill doesn't stand much of a chance in the Senate, and the White House has issued a veto threat.
White House Press Secretary Jay Carney said Wednesday that Congress still has time to get its work done -- but he's not sure how.
"I don't have a crystal ball, so I don't know what the endgame will look like, how this will all end," Carney told reporters.
And so the game of chicken continues -- the latest example of gridlock for a Congress that has produced little else.
Lawmakers have already approved seven stop-gap spending measures this calendar year -- sometimes waiting until the 11th hour to reach a deal.
And Congress hasn't done much at all to help the economy.
"This is just about the least productive Congress," said David Kendall, a senior fellow at the centrist Democratic think tank Third Way. "These guys have done practically nothing."
Lawmakers did approve free trade agreements with Colombia, South Korea and Panama that have been in the works for years. And a bill designed to reform the nation's twisted patent system became law in September.
But there have been no significant efforts to fix the economy's underlying problems -- tepid job creation and a dysfunctional housing market. And vast areas of policy have gone untouched.
And worse than doing nothing, the actions of lawmakers are helping create the kind of uncertainty abhorred by business leaders, experts say. One prime example: The congressionally-created debt ceiling crisis that threw the business community into hysterics and contributed to a downgrade of the U.S. credit rating.
At the same time, government agencies are unable to make large purchases or implement new policies because their funding is constantly in doubt.
"Congress is running the country like it's going out of business," Kendall said.
The intransigence of lawmakers has not gone unnoticed. Obama, for example, changed his campaign trail slogan in response to Congress's inaction: "Yes we can" has become "We can't wait."
The American people noticed too.
A New York Times poll found that American's approval of Congress hit its lowest mark ever in October -- only 9% approve of the way Congress is handling its job.
If you're keeping track, that's pretty bad. The Nixon White House, for instance, maintained an approval rating of 40% -- more than four times Congress's current rating -- during the Watergate scandal.