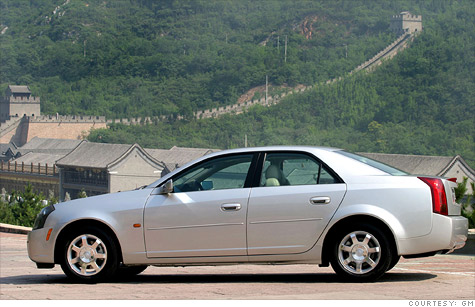 The Cadillac CTS on the Great Wall of China. While GM is the No. 1 automaker in China, exports from the U.S., such as this CTS, are less than 1% of its sales there.
NEW YORK (CNNMoney) -- China slapped duties on U.S.-made cars Wednesday, an action that could imperil billions in sales by Detroit automakers but which will leave most of their sales in the country unaffected.
The Commerce Ministry of China announced the duties on U.S.-made sedans and SUVs, raising the cost of those vehicles to Chinese buyers by between 2% and 21.5%. The new tariffs start Thursday and will last for 2 years.
The ministry cited "anti-dumping and anti-subsidy regulations" as the reason for the action.
But the action comes amid rising trade tensions between the United States and China, the world's two largest economies who have become key trading partners as well.
The U.S. Trade Representative's office, the Obama administration's advocate in trade disputes, issued a statement that it was "very disappointed in this action by China today." It said it would consult with Congress and U.S. automakers about how best to respond.
The move by Beijing's government came two days after the Trade Representative issued a report to Congress that criticized what it said was China's "industrial policies that rely on trade-distorting government actions to promote or protect China's state-owned enterprises and domestic industries."
The action also came ahead of a meeting of the World Trade Organization's dispute settlement body on Monday at which the Obama administration intends to challenge Chinese limits on chickens imported from the United States.
General Motors (GM, Fortune 500), along with its Chinese joint venture partners, is the leading automaker in China, and the market has become crucially important to the company. Through November, GM sold 2.4 million vehicles in China, up 8% from a year earlier, and 4% ahead of its U.S. sales in the same period. Its revenue in China came to $22.9 billion in the first three quarters of the year.
But GM said that its U.S. exports into China represent less than 0.5% of its overall Chinese sales.
"To better serve our customers by providing vehicles tailored for Chinese buyers and to make them more affordable, GM generally builds where we sell," said a statement from the company Wednesday. It said the company is working with its Chinese partners and the authorities to understand the full implication of the duties and seek a solution.
Ford Motor (F, Fortune 500) said that none of the 470,152 cars it sold in China so far this year came from U.S. plants. Chinese sales figures for privately held Chrysler Group were not immediately available.
While U.S. imports are a fraction of overall auto sales, the growing middle class has made China the world's largest market for auto sales and created some significant export opportunities.
U.S. vehicle exports to China were worth $4.2 billion in the first 10 months of this year, according to the Census Bureau, making it the third largest market for U.S. vehicle exports behind only Canada and Germany. Those exports are up 50% from the same period of last year, and exports have been growing at roughly that annual rate since 2004.
But experts in the field said they don't expect the import duties and lost sales to be a significant blow to the U.S. automakers, since most of their sales there won't be affected. They say it's likely a move by the Chinese to try to block the U.S. from filing any additional sanctions against its own exports here.
"They're basically saying if the U.S. tries to put tariffs on imported goods from China, they'll retaliate," said Rebecca Lindland, director of research at IHS Automotive.
Peter Morici, economics professor at the University of Maryland and a vocal critic of U.S. trade policies, said the move is part of a trend of China becoming even more protectionist as it focuses more on growth rather than fighting inflation.
He pointed to the recent decline in the value of the Chinese yuan versus the dollar, which raises the price of U.S. goods there and lowers the price of Chinese exports. Earlier this year, after pressure from developed economies, China allowed the yuan to rise in value.
"They see a recession coming and they're getting tough on American imports," he said. "We can expect more of it."
And he said even if the U.S. auto exports to China are small compared to the sales there, the United States should take action to oppose it.
"There's a reason we export so little -- they let so little in," he said. "This is what we should be selling there to balance the trade."
He said this is also part of the effort by China to force U.S. companies doing business there to turn over more of their technology to their Chinese partners.
"They're showing GM that Beijing is more powerful in their lives than Washington," he said.
Shares of GM and Ford were both off 2% in midday trading.