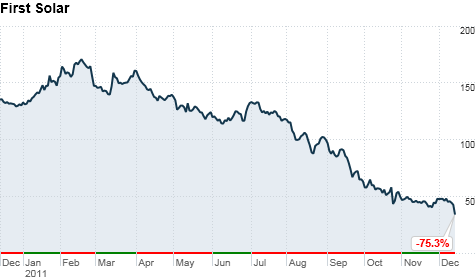 NEW YORK (CNNMoney) -- Shares in solar power company First Solar fell over 20% in early trading Wednesday after the firm lowered its sales forecast for 2011.
The Arizona-based company, which is a leading maker of thin-film solar panels and also a developer of solar power projects, predicted net sales in 2011 of $2.8 to $2.9 billion. That's down from earlier projections of $3.0 to $3.3 billion.
The company said the lower sales were due to delays in its projects caused by weather and "other factors," but predicted a healthy 2012.
"Our diverse business model and robust project pipeline will help First Solar generate a significant amount of cash in 2012 while improving operational efficiencies," Mike Ahearn, Chairman and Interim CEO of First Solar, said in a statement Wednesday.
The company, which has been steadily growing in profitability since 2007, is expecting its earnings per share to range between $3.75 and $4.25 in 2012.
Thin film solar panels are less efficient than traditional silicon-based solar panels but have historically been cheaper to produce.
Like all solar panel makers, shares in First Solar (FSLR) have been battered this year as a huge oversupply and slack demand caused the price of silicon solar panels to plummet. First Solar shares are down over 70% since January.
Dozens of solar panel makers are expected to go bankrupt this year as the depressed prices prune weaker companies from the market.
The most visible victim of the price collapse so far has been Solyndra, a maker of advanced but pricey solar panels that went bankrupt after receiving a half-billion dollar loan backed by the U.S. government.
First Solar does not have any government-backed loans.
Jesse Pichel, an analyst at the investment bank Jefferies & Co., maintained a hold rating on First Solar stock earlier this week even in anticipatiinon of the lowered sales figures.
Still, Pichel said the company has to work on lowering costs.
"First Solar has projects which are profitable and is not a bankruptcy risk near term in our view," he said. "But the future of the company will be determined by its ability to lower module costs and increase efficiency."