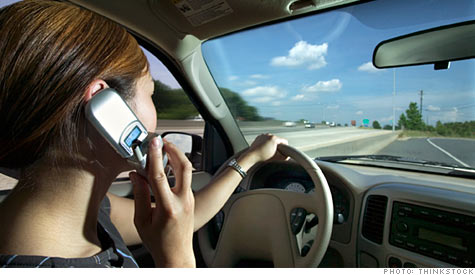 So far, where cell phone bans have been enacted, they've failed to reduce crashes, according to the Insurance Insitute for Highway Safety.
NEW YORK (CNNMoney) -- Cell phone bans, such as those recently recommended by the National Transportation Safety Board, have so far proven useless when it comes to actually reducing car crashes, according to the Insurance Institute for Highway Safety.
The Insurance Institute is a private group financed by auto insurers. The National Transportation Safety Board recently recommended that states adopt strict rules banning all non-driving-related use of hand-held devices such as cell phones -- even hands-free -- while driving.
Many states already have bans on hand-held cell phone use and on texting while driving. The Insurance Institute has studied crash rates before and after bans were enacted in various states and also compared them to crash rates in nearby states with no such bans.
While the bans have resulted in actual reductions in phone use, they have not resulted in any reduction in crash rates, according to the Institute.
The Institute found similar results from bans on text messaging while driving. In fact, in a strange twist, texting bans actually resulted in more crashes in several states, according to an IIHS study.
The lesson, Insurance Institute spokesman Russ Rader said, may be that cell phones aren't really the problem, drivers are.
"Part of it is that distracted driving is much bigger than just phones," he said "so focusing on phones doesn't deal with the full spectrum of things that distract."
For its part, the NTSB has cited various studies showing a connection between cell phone use and an increased likelihood of crashing. An NHTSA study indicated that distracted driving caused about 3,000 crash deaths last year, although it's not clear how many of those crashes were related to hand-held devices as opposed to other distractions.
"What we know is that the best course of action is a three pronged approach -- strong laws, strong education and strong enforcement," NTSB spokeswoman Kelly Nantel said in an email.
Automakers, including Ford (F, Fortune 500), General Motors (GM, Fortune 500), Toyota (TM) and Hyundai (HYMTF) have invested heavily in creating increasingly sophisticated hands-free phone systems for cars. Most of those systems would be banned under the NTSB's proposal. (An exception would be GM's OnStar which allows users to make calls using a telephone built into the car itself. The NTSB proposal would specifically allow calls on that sort of system since it does not involve a handheld phone.)
Ford spokeswoman Christin Baker objected to the NTSB proposal citing research that tracked real-world drivers. The research showed that talking on a phone resulted in dangerous incidents only when drivers took their eyes off the road and their hands off the steering wheel. Voice-activated systems like Ford's Sync would prevent that, she said.
Experts have said the NTSB's proposal is unlikely to become law in many, if any, states due to strong resistance from drivers who want to stay in communication while driving.
New technologies that help alert drivers to hazards on the road would probably do more to actually reduce distracted driving crashes, the Insurance Institute's Rader said.
Such technologies include forward collision warning systems that alert drivers to stopped or slow-moving cars or pedestrians ahead of them and lane keeping assistance systems that warn when a vehicle is drifting out of its lane.
Both the Insurance Institute and the U.S. Department of Transportation are looking at ways to incorporate safety systems like these in their assessments of car safety. As of now, such assessments rely almost entirely on crash tests.
There is the danger that drivers might over-rely on these systems, said Rader, canceling out their benefits by just paying even less attention to the task of driving.
"That is the thing researchers are going to be watching," said Rader. "How are drivers going to respond to these systems?"