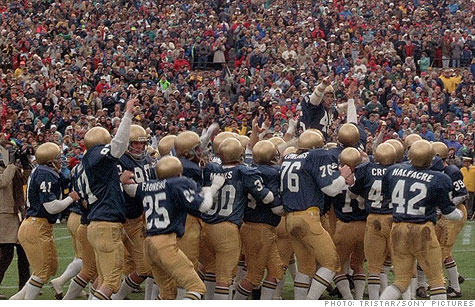 Daniel Ruettiger, who became famous as subject of the movie 'Rudy,' shown above, has paid to settle SEC charges he defrauded investors in his company.
NEW YORK (CNNMoney) -- Daniel Ruettiger, the basis of the inspirational sports movie "Rudy," has agreed to settle charges with the Securities and Exchange Commission that he and some business associates schemed to deceive investors into buying stock in his sports drink company.
The SEC said that Ruettiger agreed to pay $382,866 without admitting or denying the allegations. Ten other associates of Ruettiger also settled charges, while litigation continues against two others.
The SEC charges that Ruettiger and his associates participated in a so-called a "pump-and-dump" scheme to inflate the value of the stock of his sports drink company in 2008. It said the scheme generated more than $11 million in illicit profits.
The agency said the company, Rudy Nutrition, produced and sold modest amounts of a sports drink called "Rudy" with the tagline "Dream Big! Never Quit!"
But it said the alleges that investors were provided false and misleading statements about the company in press releases, SEC filings, and promotional materials. The agency said promoters engaged in manipulative trading to artificially inflate the price of Rudy Nutrition stock while selling unregistered shares to investors.
"Investors were lured into the scheme by Ruettiger's well-known, feel-good story but found themselves in a situation that did not have a happy ending," said Scott Friestad, associate director of the SEC's division of enforcement.
Neither Ruettiger nor his attorney could be reached for comment about the case.
The 1993 movie "Rudy" told the story about how Ruettiger, a poor student from a working class background, struggled to join his beloved Notre Dame football team despite being much smaller than the other players. After years on the team's practice squad, his determination eventually wins him the chance to play in the last game of his senior year, fulfilling his lifelong dream.