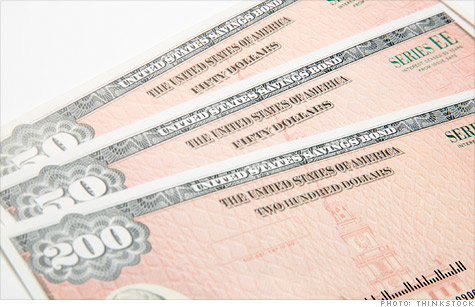 Get a paper savings bonds before they go digital.
NEW YORK (CNNMoney) -- This holiday season is your last chance to stop by the bank and buy a paper savings bond, either for yourself or your loved ones.
Starting Jan. 1, you'll no longer be able to purchase paper savings bonds at banks or other financial institutions. Instead, the savings bonds, which have been around since 1935, will be replaced by electronic bonds that can only be purchased online.
The Treasury Department's Bureau of Public Debt announced the "all-electronic initiative" last year, and the agency has already ended the sale of paper bonds through traditional payroll plans.
The department estimated that the digital initiative, which eliminates costs associated with printing, mailing, storage and fees paid to financial institutions for processing savings bond applications, could result in a total savings of $120 million over the next five years.
If you want to buy a savings bond in 2012, you'll need to have an online account with the Treasury Department. To give a bond to another person, they will also need an account so you can transmit the bond electronically to them. And if you're giving a bond to anyone under the age of 18, a parent or guardian must open the account.
But until Jan. 1, you still have the chance to scoop up the last paper savings bonds that banks have -- potentially even turning your gift of a once common slip of paper into a collector's item.
"About 7 billion paper bonds have been sold and circulated, so the rarity of it is another question, but certainly some people might look at it as collector's item," said Joyce Harris, a spokeswoman for the Treasury Department's Bureau of Public Debt. "If someone looks at the issue date 100 years from today they may say, 'this is one of the last paper bonds ever issued.'"
There's one exception, however: you'll still be able to use your tax refund to buy Series I paper savings bonds come 2012. But Joyce said she isn't sure how long that option will be offered.
"We're definitely transitioning to electronic," she said. "It's still a good investment and a safe investment ... it's just that we have decided to transition into a different form and really focus the program online to save taxpayers money."
In 2012, you will only be able to buy electronic savings bonds in Series EE and I through TreasuryDirect, a free online bond-buying portal that has been available since 2002.
For current paper bond-holders, you can still redeem them at financial institutions. Paper bonds that have yet to reach their maturity date and have been lost, stolen or destroyed, may also be converted to electronic form.