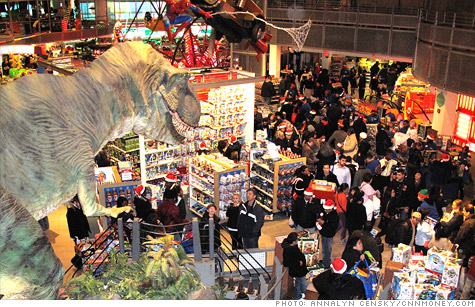 NEW YORK (CNNMoney) -- Toys R Us is giving last minute holiday shoppers a break this year, thanks to round-the-clock shopping right up until Christmas.
Toys R Us stores nationwide will stay open for 112 hours straight starting at 6 a.m. Tuesday and continuing through 10 p.m. on Christmas Eve, the toy giant said Monday.
This is the second year in a row the retailer has remained open for 24-hour shopping in the days before Christmas.
"For the second consecutive year, our stores will remain open continuously during the days leading up to Christmas, allowing shoppers more time and more ways to shop with Toys R Us than ever before," Chief Marketing Officer Greg Ahearn said in a statement.
The toy retailer's flagship in Times Square is staying open even longer. That store has been open since 6 a.m. on Friday, Dec. 16 and will not close until Christmas Eve.
During that time, Toys R Us also said it there will be additional discounts on Tuesday and Wednesday.
The limited-time offerings include a free $35 gift card with the purchase of any Nintendo 3DS handheld system, half off Barbie beach dolls and buy one get one half off on Moxie Girlz Magic Hair, Sisterz and Dazzle Dance dolls. The same deals will also be available on Toysrus.com.
Fourteen Macy's stores, including its Herald Square flagship, will also stay open continously from Wednesday until 6 p.m. on Christmas Eve and Target (TGT, Fortune 500) has extended store hours from 8 a.m. to 11 p.m. until Dec. 23. Other retailers were not immediately available for comment on their plans.