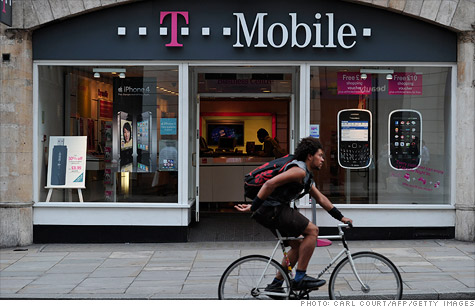 NEW YORK (CNNMoney) -- It's time for T-Mobile to desperately scramble for a viable Plan B now that AT&T has walked away.
Getting bought by AT&T (T, Fortune 500) would have solved most of T-Mobile's problems. Its customers would finally have gotten access to a true 4G network and top-of-the-line smartphones like Apple's (AAPL, Fortune 500) iPhone.
But after the Obama administration scuttled the deal on antitrust grounds, T-Mobile is left in an even weaker position than in March, when the merger was first announced.
Since AT&T agreed to buy it, T-Mobile has largely sat on its hands, watching its profit, sales and market share sink without any major handset or network upgrades.
It's not all doom and gloom for T-Mobile: It's still profitable, and AT&T will be sending it $1 billion worth of wireless spectrum allocations by the year's end. A roaming agreement with AT&T will also help expand T-Mobile's coverage to 50 million more Americans.
That's a nice parting gift, but it's not even close to enough for T-Mobile to build out a 4G network. And the real prize, the $3 billion break-up fee, will go towards paying down parent company Deutsche Telekom's debt, not to T-Mobile USA, Deutsche Telekom announced on Tuesday.
That, analysts, say, means T-Mobile will have to act sooner rather than later to figure out its backup plan.
"T-Mobile's entire strategy is gone," said George Appling, partner at Booz & Co. "T-Mobile should be worried, because its business isn't going anywhere, and now it needs to start all over again."
Making matters worse, Appling predicted a massive exodus of management from T-Mobile now that the merger is off the table. The company had incentivized management to stay as long as the deal was in the works, but now there's "no reason to stay," Appling said. That talent drain will force T-Mobile's hand even more.
A T-Mobile spokesman countered that the commitment level among T-Mobile executives remains "very strong."
So what are the options for the nation's fourth-largest wireless company? Experts say it's eat, be eaten, or strike a licensing deal.
Eat: If it's going to buy up one or several smaller wireless providers, T-Mobile could do well by making a bid for regional carriers Leap Wireless (LEAP) and MetroPCS (PCS). Both stocks rallied Tuesday along with the rest of the market.
Unlike T-Mobile, both have the spectrum necessary to create a 4G solution, and MetroPCS has already begun to roll out its next-generation network. Appling estimates T-Mobile could save at least $500 million a year by purchasing one of the companies and transitioning to the much more efficient 4G technology.
Such a deal could also restore T-Mobile's identity as the nationwide value carrier, which got muddied in recent years as the company struggled to determine whether it was in competition with the big boys Verizon (VZ, Fortune 500), AT&T and Sprint or low-cost carriers like Virgin, Boost, MetroPCS and Leap's Cricket network.
Be eaten: If AT&T couldn't get regulatory approval to buy T-Mobile, there's no chance its even larger rival Verizon would be able to scoop it up. That leaves Sprint Nextel (S, Fortune 500) as the only U.S. wireless player that might have a realistic shot at playing the role of T-Mobile's white knight.
Sprint, after all, is the company that everyone thought would buy T-Mobile before AT&T stepped in. Sprint certainly could use T-Mobile's spectrum, and a tie-up between the two companies could create a much more competitive third option in the wireless market -- making it likely that it would receive a blessing from regulators, according to Brett Gordon, professor at Columbia Business School.
But there are many reasons why that deal might not be able to get done: Sprint is rapidly running out of cash, and its network technologies are incompatible with T-Mobile's. Sprint couldn't offer anything close to the $39 billion AT&T had bid.
A more likely option is that a Latin American carrier like Telefonica or Telmex would buy T-Mobile to get a foothold in the U.S. market, said Josh King, general counsel at Avvo.com and former senior corporate development executive at AT&T Wireless. A European player is also possible, similar to how Vodafone (VOD) bought a large stake in Verizon Wireless.
But cable operators, once believed to be a potential savior, are now likely out. Cox, Comcast (CMCSA, Fortune 500), Time Warner Cable (TWC, Fortune 500) and Bright House sold their wireless spectrum to Verizon this month.
Dish Network (DISH, Fortune 500) has spent $3 billion on wireless spectrum over the past year, but Frost & Sullivan analyst Brent Iadarola said AT&T is more likely to strike a licensing deal with Dish than the satellite operator is to buy T-Mobile outright.
Make a deal: As a third option, T-Mobile could partner with another company in a spectrum licensing deal.
In what could be an interesting twist, AT&T's 4G network might make the most sense for T-Mobile. AT&T could allow T-Mobile's customers to roam on its 4G network in exchange for spectrum licenses that would allow AT&T to deploy 4G faster.
Another possibility is an infrastructure-for-4G partnership with 4G wholesale provider LightSquared, according to Jagdish Rebello, analyst at IHS iSuppli. But that network isn't expected to deploy until 2013 at the earliest.
"What's certain is that T-Mobile can't go it alone," said Rebello. "They can only call their 3G network 4G for so long."