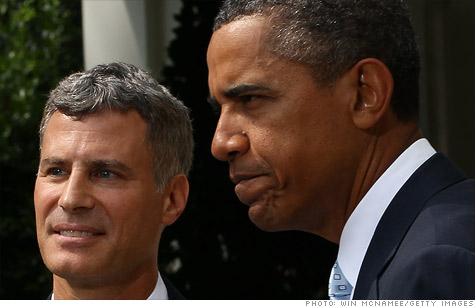 White House economic adviser Alan Krueger says Congress is hurting the economy by creating uncertainty on payroll tax cuts.
WASHINGTON (CNNMoney) -- A top White House economic adviser said on Wednesday that congressional deadlock on extending payroll tax cuts and unemployment insurance benefits could threaten the U.S. economy.
Alan Krueger, the chairman of the Council of Economic Advisers, stressed the economic importance of keeping the 2% payroll tax cut for 160 million workers and emergency unemployment benefits.
Krueger criticized Congress, saying their work is "not always predictable," in a speech to the World Affairs Council of Charlotte, a nonprofit affiliated with the University of North Carolina.
"Economists from across the spectrum have said that continuing the payroll tax cut and extended unemployment benefits would provide a boost to economic growth and job creation in the coming year," he said.
The White House has pounced on congressional Republicans for failing to vote on a Senate deal to extend the payroll tax cut for two months.
The Obama administration and both Democratic and Republican leaders in Congress say they want the tax cut extended. But they disagree on how to cover the lost tax revenue from a one-year extension, estimated at $120 billion. That deadlock has set the stage for payroll taxes to rise on Jan. 1.
The bipartisan Senate package paid for a two-month extension of tax cuts mostly by hiking fees that Fannie Mae and Freddie Mac charge mortgage lenders, which would likely get passed on to borrowers.
The House balked and instead passed a bill asking for the House and Senate to negotiate differences in extending payroll tax cuts. The bill is expected to go nowhere soon since the Senate has closed up shop for the year.
Economists polled by CNNMoney on Tuesday agree with Krueger's assertions.
A majority of those polled said that the failure to pass an extension of the payroll tax holiday would put a serious dent into economic growth in 2012 and could even help tip the U.S. back into a recession.
Economic growth could be nearly half a point lower in the first quarter if Congress doesn't act.
Krueger said recent moves in Congress make economic forecasting more difficult.
"It is hard to forecast whether Congress will continue the policies that are helping the economy to recover from the deepest recession in the post-war period," he said.
Later in his speech, Krueger argued against Republican claims that regulatory uncertainty was hampering economic growth.
"One of the dangers of exaggerating the effects of uncertainty is that it could paralyze action," Krueger said. "The fact that we live in uncertain times should not prevent us from taking actions to build a better future. "