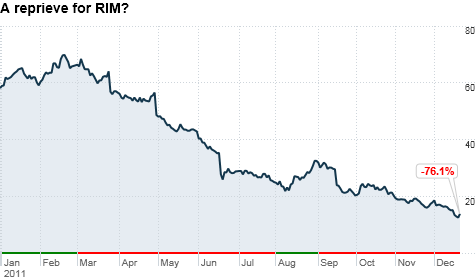 Shares of Research in Motion have tumbled so far in 2011 that some think a takeover of the company may finally be inevitable.
NEW YORK (CNNMoney) -- It looks like wine isn't the only thing that's being mulled this winter. A group of large tech firms have reportedly considered a takeover of struggling BlackBerry maker Research in Motion.
Shares of RIM (RIMM) shot up more than 10% Wednesday after the Wall Street Journal reported that Microsoft (MSFT, Fortune 500) and Nokia (NOK) explored the idea of joining forces to buy RIM. And Reuters upped the ante by reporting that Amazon.com (AMZN, Fortune 500) had considered a bid for RIM too. (Kindle Torch Fire?)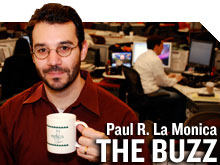 "Mulled" is a funny word, though. It means that someone thought for a while about doing something. That's not the same as actually going out and doing it.
The leaked reports about RIM smack of desperation -- either from investors long the stock doing anything they can to pump it up or bankers hoping to scrounge up some merger advisory fees.
Michael Pytosh, senior portfolio manager with the ING Growth and Income Fund (IAVGX) in New York, said the scuttlebutt may be a classic case of investment bankers "smelling the chum in the water." RIM shares are down 76% this year after all.
It would be counterproductive for Amazon, Microsoft or Nokia to talk up RIM's takeover prospects, since that would just make a deal (if they actually graduate from mulling to offering) more expensive.
Spokespeople for RIM and Microsoft each said their company does not comment on rumors or speculation. Representatives for Nokia and Amazon were not immediately available for comment.
But little has changed for RIM since I wrote about them last Friday following the company's latest Hindenberg-esque earnings report. While many shareholders would love to see RIM put itself on the block, there are several obstacles preventing a sale.
First and foremost, RIM's co-CEOs have steadfastly stuck to a Bob Marley mantra: "Don't worry about a thing. 'Cause every little thing is gonna be alright."
Perhaps the CEOs should follow the lead of Jacob Marley instead of Bob and worry about the bleak forecast that the Ghost of BlackBerry Future, aka the market, is showing them.
Michael Lazaridis and Jim Balsillie continue to tout the upcoming BlackBerry 10 phones and upgrades to the PlayBook tablet, even though they have been delayed several times. They do not appear to be interested in selling the company, despite its many problems.
Then there's the issue of why Microsoft, Nokia or Amazon would want RIM in the first place. All three companies are already playing catchup with the likes of Apple (AAPL, Fortune 500) and Google's (GOOG, Fortune 500) army of Android allies. Would adding a crushed BlackBerry help?
"A takeover of RIM by Microsoft or Amazon does not make sense," said Pytosh, whose fund owns stakes in Microsoft and Amazon but not RIM. "To jump even further into the competitive smartphone business would be a waste of money."
Michael Holt, an analyst with Morningstar in Chicago, takes it a step further. He said that Microsoft probably would not want RIM's software. If it did, it could have outbid RIM for QNX, the company behind much of RIM's new operating system.
And Holt added that Amazon's core focus on consumers and RIM's expertise with businesses creates a "mismatch."
Sure, RIM has a patent portfolio that rivals may want. Intellectual property is what made Motorola Mobility (MMI) most attractive to Google, not Motorola's Droid and Razr hardware franchises.
But analysts said that the patents RIM holds, including many it bought from bankrupt networking company Nortel earlier this year, are primarily tied to e-mail functions.
That's so 1998 -- which is precisely why RIM is in the mess it is in now. RIM failed to adapt to the touchscreen, "there's an app for that" smartphone revolution in time.
Shaw Wu, an analyst with Sterne Agee & Leach in San Francisco, estimates that RIM's patents are worth between $2.5 billion and $4 billion. He believes the core BlackBerry operations are probably worth about the same amount.
That adds up to $5 billion to $8 billion, tops. RIM's market value is currently $7 billion.
"At this price, RIM is still rich. It could be an interesting takeover target at a lower value, but right now it is still steep," Wu said.
Holt agreed. He also doesn't think the stock should be trading much higher. His fair value estimate for RIM is $14 a share -- only slightly above the price the stock was trading Wednesday, thanks to the takeover rumor lift.
The problem with any RIM takeover scenario is that there's no good reason a buyer has to rush to do a deal now. It's tough to imagine what could drive the stock higher, other than takeover rumors.
"RIM could bet bailed out by an acquisition, but investors shouldn't count on it," Holt said. "You are basically taking a leap of faith that the new phones at the end of 2012 will be a big hit. But they could lose a lot of customers between now and then."
So if RIM is ever acquired, it could mirror the sad demise of Palm, which was finally purchased by Hewlett-Packard for a scant $1.2 billion. If anything, RIM should be begging buyers to save it.
"The hardest thing for me to grasp is why RIM would not want to entertain any offers and continue to just forge ahead given the challenges they face," Holt said.
Best of StockTwits: Before Oracle (ORCL, Fortune 500) reported results Tuesday, a follower of mine chided me for comparing Oracle and Red Hat (RHT). "Larry Ellison would slap you around for mentioning $ORCL & $RHT in the same sentence," tweeted Michael K. Dawson.
Guess what? Oracle's earnings disappointed investors even more than Red Hat! Oracle's stock plunged Wednesday and that dominated the conversation over on StockTwits.
billgunderson: Stocks have lifecycles. $ORCL is way past its prime.
Not sure I'd say Oracle is past its prime yet. This may be a short-term hiccup due to the problems in Europe. Oracle is continuing to make many smart deals to boost growth beyond database software.
etfdigest: $ORCL how many tech misses will investors shrug-off on the sector overall?
I think it's safe to say investors are NOT shrugging this off. The big pullback in SAP (SAP) and Salesforce.com (CRM) and the Nasdaq overall is an indication people are worried about a corporate tech spending slowdown.
CapitalObserver: They loved $ORCL at 36 and hate it at 25. ORCL, headed by Larry Ellison, announced a $5 BN repurchase. Who's on the right side of the trade?
Great point. We can debate if buybacks are the best use of cash, but doing one now to take advantage of the sell-off seems smart. The drubbing is likely overdone. Ellison's been around the block a few times. This too shall pass.
ldrogen: my stream is smart and can see the bleeding from the cloud is overdone, stay patient great opportunities forming here $VMW $TIBX $ORCL
Agreed. Oracle is still a solid company and many of its peers may be getting unfairly punished. Investors get used to the year-end corporate IT spending flush and it just may not be happening this year due to global "uncertainty." The long-term growth story for Tibco (TIBX), VMWare (VMW) and cloud computing remains intact.
The opinions expressed in this commentary are solely those of Paul R. La Monica. Other than Time Warner, the parent of CNNMoney, and Abbott Laboratories, La Monica does not own positions in any individual stocks.