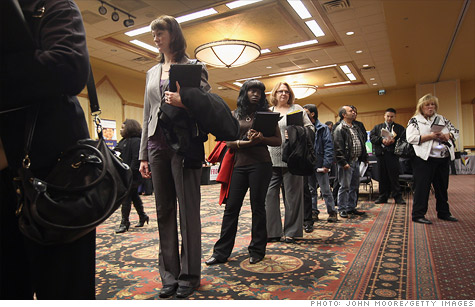 NEW YORK (CNNMoney) -- The number of Americans filing for first-time unemployment benefits dropped to their lowest level since April 2008, boosting optimism in the job market.
In a surprise drop, 364,000 people filed initial jobless claims in the week ended Dec. 17, the Labor Department said Thursday. That was a decrease of 4,000 from the prior week. Economists were expecting claims to rise to 380,000.
Last week, claims fell to their lowest level since May 2008, bringing hopes that the labor market could finally be improving meaningfully. A level below 400,000 often signals job growth strong enough to lower the unemployment rate, many economists say.
Meanwhile continuing claims -- which include Americans filing for their second week of claims or more -- fell 79,000 to 3,546,000 in the week ended Dec. 10.
In November, the unemployment rate unexpectedly plummeted to to 8.6% -- its lowest rate in nearly three years. The dip bolstered optimism about economic growth.
Although there are glimmers of hope in the tough economic environment, there are still plenty of hurdles ahead.
In less than two weeks, a provision will expire affecting jobless Americans. According to White House estimates, some 697,000 unemployed Americans could lose benefits by Jan. 14 and the number of Americans poised to lose benefits will top 2.6 million by March.