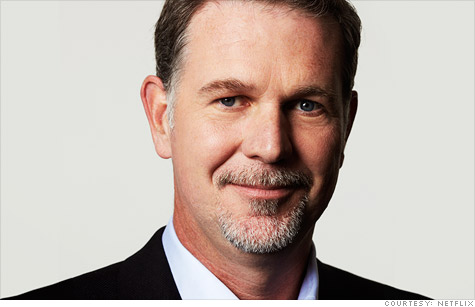 Reed Hastings, Netflix's CEO, will be granted half the stock options he received in 2011, but his salary was not cut.
NEW YORK (CNNMoney) -- Netflix CEO Reed Hastings' stock options have been cut in half for 2012 following a disastrous year.
Hastings will be given $1.5 million worth of options next year -- half of the $3 million in options he received this year, according to a regulatory filing. It will be the lowest amount of options Hastings has received since 2009.
Yet it doesn't necessarily represent a pay cut for the embattled CEO. Hastings' $500,000 salary will remain the same, and his total compensation will be measured by the ultimate value of the company's stock at the end of the year.
For instance, in 2010, Hastings received $2 million in options, which ended up being worth $5 million by the end of last year after the stock tripled in value. This year, the stock tanked 60%, so it's unlikely the CEO's $3 million in options he received in 2011 were worth that much in the end.
Though Hastings' options allowance plummeted, much of the rest of Netflix's executive team all got handsome pay raises.
Netflix (NFLX) Chief Financial Officer David Wells hardly threw a perfect game this year, but his salary rose 22.5% to $490,000 a year for 2012, and he'll be receiving $160,000 more in options.
Ted Sarandos, the company's chief content officer, will get a 10% pay raise to $1 million a year, and he'll receive $400,000 more in options next year. And Chief Product Officer Neil Hunt's options will increase by two-thirds to $1.5 million, though his salary is staying the same at $1 million a year.
Of the company's top five executives, only Leslie Kilgore, Netflix's chief marketing officer, will have her salary cut -- by 28%. But she'll be granted $227,000 more in options.
A spokesman from Netflix declined to comment on the decision-making process behind its executives' compensation.
Netflix's 2011 troubles began when it announced it would charge separate prices for its DVDs-by-mail and streaming video plans. But the real debacle came in September, when Netflix announced its DVD service would be rebranded as Qwikster. Customers raged so much that Netflix pulled a stunning reversal a few short weeks later and canceled the entire Qwikster plan.
Making matters worse, the company said last month that it expects to lose money for all of 2012, and it is looking to raise cash in a secondary offering of its stock.