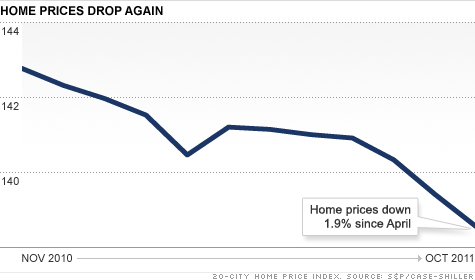 NEW YORK (CNNMoney) -- Home prices fell for the sixth straight month in October, down 1.2% compared with September and 3.4% a year ago, according to the latest S&P/Case-Shiller 20-city index.
The decline was disappointing in light of several other recent reports, which painted a more positive picture of the housing market.
In recent weeks, reports on new home sales, existing home sales and home building all recorded increases. In addtion, mortgage rates are at record lows, which should be giving homebuyers an added boost.
However, tight lending standards and a glut of foreclosures continue to weigh on the housing market, said Pat Newport, a housing market analyst for IHS Global Insight.
With so many homes for sale at distressed prices, the home price numbers come as no surprise, he said.
"The numbers are pretty bad and will get even worse over the next two years," he said.
The 20-city index has dropped every month since April. Since the housing bust began in mid-2006, homes have lost nearly 33% of their value.
Peter Morici, a professor of economics at the University of Maryland, said home prices remain weak because demand for existing homes is soft. Many potential buyers are migrating to rental markets or buying new homes that had been sitting unsold for months.
According to Morici, the current home price levels represent a correction from inflated prices reached during the bubble.
"Prices are where they belong and that's where they'll stay," he said.
Nineteen of the 20 cities posted declines in October, with Phoenix the only exception. Prices went up there 0.3% compared with September.
Midwest markets and the Atlanta metro area fared badly, with Atlanta prices down 5% in October following a 5.9% plunge in September.