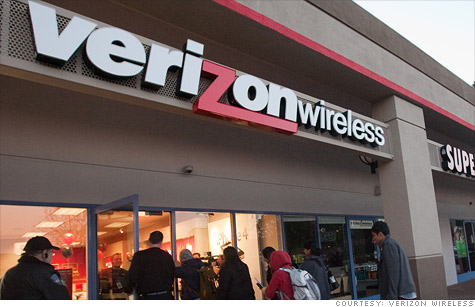 NEW YORK (CNNMoney) -- Verizon Wireless will soon make some customers pay for the privilege of paying their bills.
The nation's largest wireless company is instituting a $2 "convenience charge" for those customers who make one-time bill payments using a debit or credit card, either online or by telephone. The fee will go into effect on Jan. 15.
There are three ways for customers to avoid the charge: Customers can make a one-time payment using an electronic check, they can pay their bill using their home banking accounts, such as Citibank (C, Fortune 500) Online, or they can use a Verizon gift card or rebate card. Otherwise, single telephone and online payments will incur a $2 fee.
"The fee will help allow us to continue to support these single bill payment options ... and is designed to address costs incurred by us for only those customers who choose to make single bill payments," the company said in a statement.
Customers can still enroll in a service that will debit their bank accounts or charge their credit cards on a recurring basis for free. They can also show up at a Verizon store to pay without incurring the fee, and they can mail checks to the company.
It's not clear how many of Verizon's 91 million customers will be affected by the new charge. A spokesman from Verizon did not reply to a request for comment.
The news came one day after Verizon Wireless' 4G network suffered its third nationwide outage in as many weeks.

Elsewhere in the industry, a Sprint (S, Fortune 500) spokesman said the company does not have similar fees, though according to Sprint's website, certain customers who have accounts with spending limits are subject to a $5 monthly fee if they're not enrolled in automatic payments.

T-Mobile charges customers $5 if they make payments over the phone with a company representative, a spokeswoman said. AT&T (T, Fortune 500) did not return requests for comment.

Verizon's (VZ, Fortune 500) "convenience charge" was announced at the end of a year in which banks were vilified for charging customers a fee for using their debit cards. The banks claimed that the fees were necessary because new regulations would limit how much revenue they could make on the cards: New rules that went into effect in September capped the fees banks could charge retailers when customers swipe their debit cards.
Bank of America (BAC, Fortune 500) inspired by far the most outrage from customers after it announced it would charge its customers $5 a month for the privilege of using their debit card. Even after most other banks eventually dropped their fees, citing a customer uproar, Bank of America held fast to its decision
"They'll understand what we're doing -- understand we have a right to make a profit," BofA CEO Brian Moynihan stated in October. But by November, the company retreated and dropped the charge.
Verizon's fee is also akin to Ticketmaster, which famously bills a "convenience charge" and "processing fee" on top of the price of every ticket.