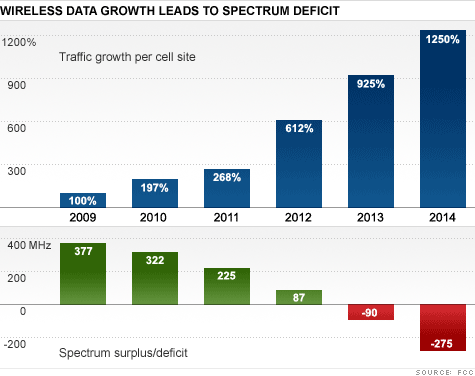 NEW YORK (CNNMoney) -- Smartphone companies and carriers are desperate for network capacity to provide souped-up service, but they're hard-pressed to find it. The latest attempt: a government effort to use the staticky space between television channels.
It's the technology equivalent of searching the couch cushions for loose change.
The Federal Communications Commission late last week opened up the light spectrum that sits between individual television channels numbered 1 through 51. Wireless communications in those "white spaces" will be permitted as of Jan. 26 in a testbed location and will be opened up nationally in the following months.
Broadcasting in the white spaces means that a company like Verizon could deliver signal between channels 5 and 6, for instance. That gives it just a little extra capacity boost to give its customers faster service.
The announcement comes as wireless companies are facing a spectrum crunch crisis that has already begun to reshape the industry.
As smartphones and tablet sales have soared over the past several years, consumers' demand for data has grown exponentially. All that data is taking up a growing amount of spectrum, or light waves, and carriers are simply running out of airwaves to cram data into. The FCC has said that a current spectrum surplus of 225 MHz will become a deficit of 275 MHz by 2014 (see chart above).
That's why the FCC is committing to freeing up 500 Megahertz of spectrum over the next decade. But there's a catch: That process includes voluntary auctions by a patchwork of television stations across the country that currently hold but aren't using their spectrum. Many aren't willing to give it up.
As those complicated wheelings and dealings get sorted out, the FCC is trying to scrounge up enough to get by. TV white spaces is a part of that effort.
"Unused spectrum between TV stations represents a valuable opportunity for provision of broadband data services in our changing wireless landscape," said FCC Chairman Julius Genachowski in a statement.
It's not a perfect solution. The white spaces spectrum will actually be unlicensed, which means that carriers can't use it exclusively. But like Wi-Fi, which also operates in unlicensed spectrum bands, wireless companies will eventually be able to provide their customers access to a white spaces network hotspot in order to offload traffic from their own networks.
In addition, new mobile phones and tablets will need new chipsets.. And the FCC will only open up the white spaces for the time being in Wilmington, N.C., as it fixes a bug that could result in interference with wireless microphones, which also use white space to send signal to speakers.
Meanwhile, carriers aren't just sitting on their hands. They've attempted to limit customers' use of their networks by introducing tiered rates, which charge more by the gigabyte. That has effectively made cell phone bills go up for many heavy users.
The wireless companies are also trying to consolidate. AT&T (T, Fortune 500) fought hard to buy T-Mobile primarily for its spectrum holdings, a battle that it ultimately lost due to the government's antitrust concerns. Sprint (S, Fortune 500) has inked deals with 4G wholesale providers Clearwire (CLWR) and LightSquared, and Verizon (VZ, Fortune 500) has purchased $4 billion of dollars of cable providers' unused spectrum over the past month.
The good news for consumers is that the FCC is aware of the problem and thinking outside the box to free up more bandwidth for mobile communications.
"There are huge scarcity issues with spectrum," said Rod Dir, CEO of Spectrum Bridge, the company approved by the FCC to manage the registry of devices that operate in white spaces. "This provides additional bandwidth in the market, not just for cellular carriers, but also for other wireless innovators."