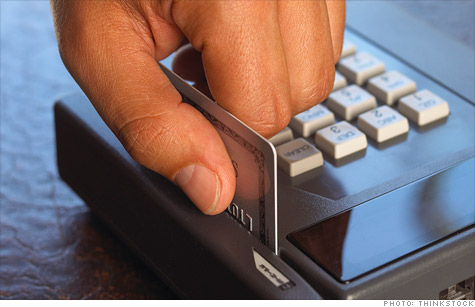 Debit card fees weren't the only annoying new fees customers faced in 2011.
NEW YORK (CNNMoney) -- Angry Verizon Wireless customers took to chat forums and social networks on Thursday after the company said it would begin to charge customers $2 for making one-time bill payments online or by phone using a credit card.
"This has seriously got to be the dumbest thing I have ever seen," wrote commenter Clay Utley. "If they insist on making me pay $2 to pay my bill ... well they will only get it one time when I pay the final bill next month."
"Oh Verizon I save trees, paper costs and postage for you by paying online. DO NOT add a fee because I do all the work for you," tweeted Vanessa Stiles, a small business owner in Indianapolis.
Many irate customers threatened to switch to Verizon's (VZ, Fortune 500) chief rivals AT&T (T, Fortune 500) or Sprint, which do not charge customers for one-time bill payments. And on Friday the wireless carrier relented, saying it would not charge the $2 fee after all.
If the story sounds familiar, it's because this plot has been rehashed again and again this year. We can safely call 2011 "the year of the fee."
Airlines: Spirit Airlines (SAVE), the discount airline that introduced the carry-on bag fee to the world last year, devised another new fee in June. In a press release entitled "Spirit Gives Consumers What They Want," the company announced it would begin charging $5 to customers who have an agent print their boarding passes at the airport. Next month, the airline will also charge $1 to those printing a boarding pass at an airport kiosk.
In exchange, the airline said it would lower fares by $5 on non-stop domestic flights, and customers can avoid the fee by printing their boarding passes at home.
In February, US Airways (LCC, Fortune 500) hiked its fees for overweight and oversized luggage to $90 from $50 -- and to $175 from $100 on bags weighing 70 lbs. or heavier. Those fees come in addition to the $25 fee for the first checked bag and $35 for the second.
In June, both Delta Air Lines (DAL, Fortune 500) and United Continental (UAL, Fortune 500) raised their second checked baggage fees for international flights by $15 and $25 respectively. Sparking consumer outrage, Delta is now facing a class action lawsuit for failing to reimburse its checked-baggage fees to travelers with lost luggage.
Legislation has been introduced in the U.S. Senate to limit baggage fees that the airlines can charge.
Hotels: Hotels also began piling on hidden fees this year.
The most ubiquitous: Wi-Fi charges of between $10 and $20, which became increasingly common this year, according to Bjorn Hanson, dean of New York University's Tisch Center for Hospitality. Hanson released a study earlier this year that forecast a record $1.8 billion would be collected from additional fees by the hotel industry this year -- up 80% from 2001.
For instance, many hotels with safes inside the room began imposing a "safe warranty charge." A Quality Inn & Suites in Surprise, Ariz., started charging its clientele $1.50 a night for that this year, the hotel manager said. The New York HIlton began charging a "luggage holding fee" of $3.50 for customers who keep bags behind the desk after checking out.
Cell phone carriers: Verizon wasn't the only wireless carrier to impose new fees this year.
In late August, Sprint (S, Fortune 500) raised its early termination fee by 75% in September to $350, bringing it in line with early termination fee hikes imposed by Verizon and AT&T in 2010. The announcement came in advance of the release of the iPhone, which Sprint said will cost the company $15.5 billion in purchase commitments to Apple (AAPL, Fortune 500).
Banks: But by far the most talked-about and despised fees of 2011 were the debit card fees imposed by banks.
Bank of America (BAC, Fortune 500), Wells Fargo (WFC, Fortune 500), JP Morgan (JPM, Fortune 500), Sun Trust (STI, Fortune 500) and Regions Bank (RF, Fortune 500) all planned to levy monthly fees of between $3 and $5 on customers for the privilege of using their debit card. The banks claimed that the fees were necessary because new regulations would limit how much revenue they could make on the cards:
New rules that went into effect in September capped the fees banks could charge retailers when customers swipe their debit cards.
The imposition of fees, however, coincided with the rise of the "Occupy" protests, and a customer uproar ensued. Executives eventually backed off after customers revolted, pledging to close their checking accounts.
But debit fees weren't the only ones levied by banks. Citi (C, Fortune 500) in October instituted a $20-a-month charge for customers that do not direct deposit their paychecks and fail to maintain a minimum balance of $15,000 in their combined accounts.
TD Bank (TD) this month put in place a $9-per-transaction charge for savings account customers who transfer money in and out of their account more than six times a month. The company also hiked four of the fees it already had in place, including wire transfers, money orders, certified checks and stop-payments.
-- CNNMoney staff writer Jessica Dickler contributed reporting to this story.