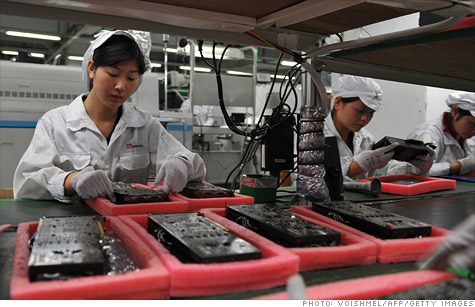 Workers inspect motherboards on a factory line at the Foxconn plant in Shenzen. An HSBC report released Friday showed China's manufacturing sector slowed more than initially reported in December.
NEW YORK (CNNMoney) -- China's manufacturing sector performed weaker than initially thought in December, according to a survey compiled by HSBC.
HSBC revised its China Manufacturing Purchasing Managers Index down to 48.7 in December. That's down from an initial estimate of 49, reported by HSBC two weeks ago.
HSBC compiles the index after surveying executives at more than 400 manufacturing companies, and a number below 50 indicates the sector is contracting.
December's results showed a "modest deterioration in business conditions," the report said Friday.
The world's second largest economy, China is being hit by weaker demand from Europe, as well as local government efforts to tame the country's real estate boom. Curbing high inflation had previously been their number one priority, but now, amid weaker economic numbers, the country's top leaders are starting to shift their focus to stabilizing growth.
"While the pace of slowdown is stabilizing somewhat, weakening external demand is starting to bite," Hongbin Qu, HSBC's chief China economist, said in the report. "This, plus the ongoing property market corrections, adds to calls for more aggressive action on both fiscal and monetary fronts to stabilize growth and jobs, especially with prices easing rapidly."
According to the HSBC numbers, December's manufacturing slowdown was not quite as severe as in November, when the index fell to 47.7, its lowest level since March 2009.
The Chinese government also compiles its own official PMI index to measure the strength of the manufacturing sector. That report is scheduled to be released next week.