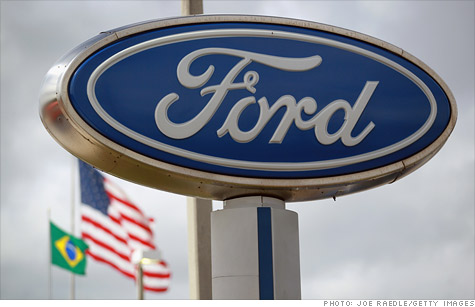 Ford capped a good year with its best December since 2006.
NEW YORK (CNNMoney) -- Detroit automakers capped a good year with strong December auto sales, putting them on course to gain market share for the first year in decades.
Industrywide sales rose 8.7% in December, ending the year with the second best monthly sales pace of 2011, according to sales tracker Autodata.
The strong demand lifted full-year U.S. auto sales to 12.8 million vehicles, up 10.3% from the 2010 total. And most forecasts for 2012 are for even better sales. Estimates range between 13.5 million to 14 million vehicles.
"It's a solid finish to another year of stable growth," said analyst Jesse Toprak of TrueCar.
Sales were particularly good at U.S. automakers. GM (GM, Fortune 500) posted a 4.5% gain in December sales, roughly in line with forecasts, enough to give the No. 1 U.S. automaker a 13% rise in sales for the full year.
Ford Motor (F, Fortune 500) reported its best December sales in five years as they rose 10% to top forecasts for the month. For the year it posted an 11% sales gain.
Chrysler Group posted by far the biggest gain. Its December sales jumped 37%, lifting full year sales by 26%. The December gain was roughly in line with forecasts.
"The fact that they had very low level of sales to compare against is the reason for the big increases," said Toprak. "But we should give them credit -- they performed better than any of us anticipated earlier in the year."
Perhaps more significant than the raw numbers was the change in market share. Autodata estimates that for the first time since 1988, all three posted market share gains at the same time.
GM's market share was at 19.6% for the year, up from 19.1% in 2010 -- its first share gain since 2002.
"It is reassuring," said Don Johnson, GM's vice president of U.S. sales operations. "It tells us we're dong the right thing."
Ford's market share posted the smallest gain, edging up 0.1 points to 16.8%. But that marked the third straight year of increases for Ford, a feat it hasn't achieved since 1989.
Chrysler Group posted the biggest increase, with 10.7% market share as of November, up from 9.4% in 2010. Those figures don't include any market share from its owner, Fiat. That Italian brand was reintroduced to the U.S. in 2011.
But if it was a good year for the U.S. automakers, it was a tough year for Japanese automakers Toyota Motor (TM) and Honda Motors (HMC). The earthquake and tsunami that hit Japan in March limited the supplies of vehicles both could sell this year, and cut into their market share. Toyota's December sales were up less than 1% from a year ago while Honda reported a 19% drop in the month.
For Toyota, it was the fourth straight year it reported a drop in U.S. sales, a blow to the company since this is now its largest market globally.