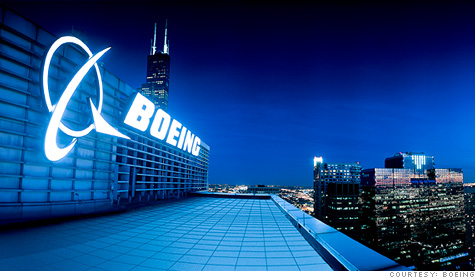 Boeing says looming defense cuts will take a toll in its business.
NEW YORK (CNNMoney) -- Boeing announced Wednesday that it was closing a plant in Kansas that employs more than 2,160 people.
The decision to close the Wichita facility, which will be shuttered in by the end of 2013, came following "a thorough study of the current and future market environment and our ability to remain competitive," the aircraft and defense manufacturer said in a statement.

A Boeing spokeswoman said in an email that some employees from the plant would be laid off, while others would be asked to relocate. She did not provide an estimate of the job losses coming as a result of the decision.
"In this time of defense budget reductions, as well as shifting customer priorities, Boeing (BA, Fortune 500) has decided to close its operations in Wichita to reduce costs, increase efficiencies, and drive competitiveness," Mark Bass, a vice president at Boeing Defense, Space and Security, said in the statement.

Bass was alluding to the $600 billion in defense cuts scheduled to take effect beginning next year as a result of the so-called super committee's failure to agree on a deficit reduction deal.

The Wichita facility is the base for Boeing's B-52 and 767 International Tanker programs and also provides support for logistics and flight mission planning, the company said. Aircraft maintenance work from the plant will move to a facility in San Antonio, while engineering tasks will move to Oklahoma City.

Job cuts as a result of the decision will begin in the third quarter of this year, Boeing said.

Shares of Boeing were down slightly on Wednesday afternoon.