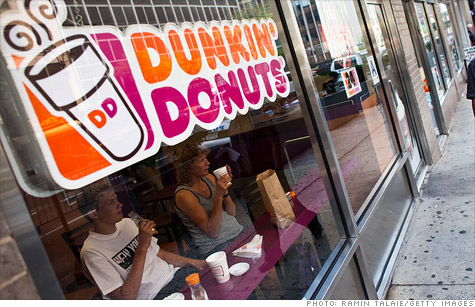 NEW YORK (CNNMoney) -- America is about to run on twice as much Dunkin'.
Dunkin' Donuts plans to double its locations in the United States over the next 20 years, the company announced Wednesday.
The coffee and doughnut chain currently operates nearly 7,000 stores nationwide. Each new store adds an average of 20 to 25 new employees, both full and part-time a Dunkin spokeswoman said.
Dunkin' Donuts controls roughly 23% of the coffee and snack-shop market, according to Los Angeles-based industry research firm IBISWorld.
Its biggest competitor, Starbucks (SBUX, Fortune 500) controls about 32.6% market share and operates about 11,000 stores in the U.S.
The announcement came as Dunkin' also said it has finished streamlining its supply chain, consolidating four existing regional suppliers under one entity, National DCP. The company said the move will cut costs.
Shares of Dunkin' Brands (DNKN), the parent company which also owns Baskin-Robbins, were slightly up in afternoon trading.
Americans consume roughly seven pounds of coffee per person each year, according to IBISWorld.