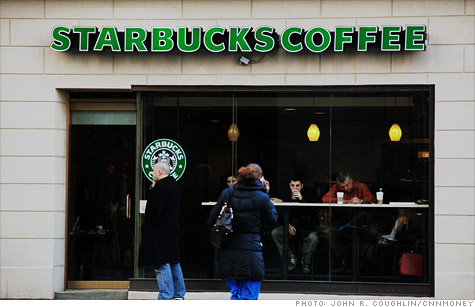 NEW YORK (CNNMoney) -- Starbucks' pricey coffee drinks just got even pricier, at least in two parts of the U.S.
On Tuesday, Starbucks (SBUX, Fortune 500) started charging more for select drinks in the Northeast and Sunbelt regions, excluding California and Southern Florida, the company said.
The average price hike across the two regions is approximately 1%, according to Starbucks spokesman Jim Olson. In New York, for example, a tall brewed coffee and tall latte drinks will cost 10 cents more.
Olson wouldn't disclose the number of beverages affected by the price hike, but said that the cost of a grande brewed coffee -- the coffee giant's most popular beverage -- will remain unchanged, as will the price of a grande caffe latte.
The price increase was put in place to help offset the rising cost of certain operating expenses, including distribution and commodities like fuel, coffee and other ingredients.
In its fiscal year-end report in November, the company said revenue hit nearly $12 billion for the year ended Oct. 2, with profits of $1.7 billion. However, the company cautioned that rising commodity costs would put pressure on prices in 2012.
That month, Starbucks increased prices in the Midwest, Pacific Northwest, California and Hawaii. None of those regions were included in the most recent price hike.
"We base pricing on market-by-market, product-by-product basis," Olson said.
Shares of the coffee company, which are trading near an all-time high, rose slightly Tuesday.