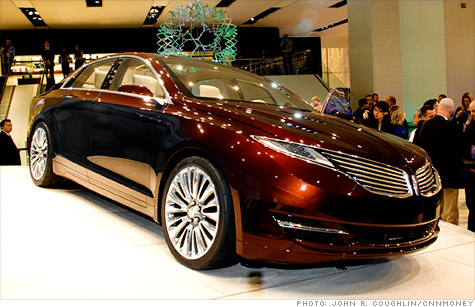 With no other luxury brands in its line-up, the once-great brand needs to return to its former glory.
NEW YORK (CNNMoney) -- It's been a long time since the Lincoln car brand has been a serious luxury contender, but Ford Motor Co. hopes to change that, starting with new the MKZ sedan, a preview of which was unveiled at the Detroit Auto Show.
The MKZ concept car is sleek and elegant and, perhaps most importantly, looks like something you'd expect to pay real money for. It also sports some intriguing technology like automatic adaptive suspension that, Ford executives boast, will give the car a combination of smoothness and performance that will stand up against the best in the business.
Also planned will be a panoramic sunroof that actually opens wide over the entire cabin for a near-convertible experience.
Panoramic sunroofs aren't new, but most only open over the front seats.

Now that Ford (F, Fortune 500) has sold off the European luxury brands -- Aston Martin, Land Rover, Jaguar and Volvo -- and killed off the mid-level Mercury brand, the automaker wants to turn Lincoln back into a real luxury player.
"We don't have the luxury of getting anything wrong," said Kevin Cour who's in charge of sales and service for the brand.
Others have gone down this path before and made it work. Ford needs only to look at GM's success with Cadillac and Buick, experts say.
In fact, Ford's task with Lincoln may be easier than GM's with Buick. Buick had a negative image with many car shoppers, having long been seen as a maker of cars for the elderly and infirm.
"With Buick it was like 'What? Are you getting me a fedora as well?" said Rebecca Lindland, an industry analyst with IHS Global Insight. "Well, guess what. Fedora's are back in style and so is Buick."
Lincoln, by contrast, is simply big question mark to many Americans.
And with younger shoppers now entering the car market, it's a good time to shape a new brand image, Lindland said.
"The consumer has a very open mind right now," Lindland said. "It's helping Kia and Hyundai and it could help Lincoln."
The image Lincoln is going for, said Jim Farley, head of marketing at Ford, is something different from what most other luxury brands have aimed at. Lincoln won't be targeted at those looking for a brash "get out of my way" luxury image.
Instead, Lincoln is looking at more of a "boutique image." Where other luxury brands have a few high-style models like the curvy Mercedes-Benz CLS or the bulbous BMW X6, Lincoln wants to do only high-style cars with nothing middle-of-the-road in the line-up.
To hone Lincoln's image, Ford hired designer Max Wolff away from GM where he had been in charge of exteriors for Cadillac.
But Ford is faced with somewhat of a conundrum with Lincoln, said Ed Loh, editor-in-chief of Motor Trend Magazine.
GM (GM, Fortune 500) turned Cadillac back into a player by tossing out the "platform sharing" playbook -- where the same bone structure is simply re-skinned to create "different" models.
Today's Cadillac cars, like the CTS, the SRX and the upcoming XTS, aren't Chevrolets -- or some other GM product -- with a different body. They're uniquely Cadillac products.
While Ford has reportedly invested as much as $1 billion into remaking Lincoln and has even given Lincoln car designers their own separate building to work in -- like Cadillac designers have -- they're unlikely to go so far as to make the cars truly unique under the sheet metal, said Loh. That would go against Ford CEO Alan Mulally's stated mission to cut costs by sharing as much engineering globally as possible.
The MKZ, for example, still shares its underlying engineering with the new Ford Fusion mid-sized sedan.
And without that, Lincoln is unlikely to be taken seriously as a big-league luxury player. It's not impossible -- Toyota (TM) pulls it off with Lexus -- but, more likely, Lincoln will be relegated to some sort of second-tier "near luxury" status similar to GM's Buick which, unlike Cadillac, openly shares engineering with brands like Chevrolet.
Not that that that would be the worst place in the world.
"I bet, secretly, they would die to have the resurgence Buick's had," said Loh.