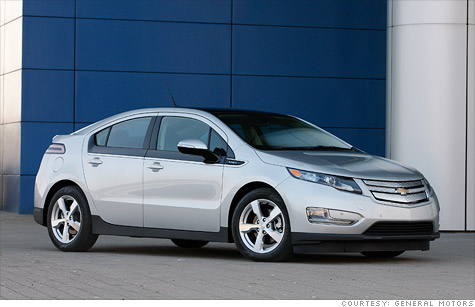 Volt owners will be asked to bring their cars to the dealer to have changes made that will help prevent coolant leaks after side impacts.
NEW YORK (CNNMoney) -- General Motors is recalling the Chevrolet Volt to make changes that it says will help prevent fires from coolant leaks which may follow a severe side impact.
Coolant leaks days after National Highway Traffic Safety Administration side crash tests caused several fires.
The fires, which happned one to three weeks after the crash tests, were sparked after the cars had been slowly rotated as part of a post-test procedure causing the coolant to come into contact with circuit boards. The batteries were still charged at the time.
The recall applies to all of the approximately 8,000 Volts on the road today. Dealers will also make changes on cars on their lots awaiting delivery to customers.
GM (GM, Fortune 500) dealers will add an additional metal structure around the battery pack to more evenly distribute crash forces, said Mary Barra, GM's vice president for global product development.
Dealers will begin doing the work in February once a sufficient number of the necessary parts have been distributed, GM executives said. The same changes will be made to cars on the Volt's Detroit assembly line.
Barra emphasized that GM is not making any changes to the battery itself, which the automaker has deemed safe.
"We have tested the Volt's battery systems through [the equivalent of] 25 years of operation," she said.
GM, itself, is not calling this a "recall" but a "customer satisfaction campaign."
"We're taking these steps to provide peace of mind to our customers," Barra said.
The Volt has gotten high crash test scores from NHTSA as well as from the privately funded Insurance Institute for Highway Safety. No post-crash fires have been reported in real-world situations, according to NHTSA.
NHTSA engineers crash-tested a Volt fitted with GM's proposed changes on Dec. 22. So far, the changes have prevented any coolant leaks, the agency said. NHTSA says it will continue to monitor the car for one more week to ensure there is no risk of coolant leakage or fire.
After NHTSA announced that it was investigating the fires, GM offered to lend Volt owners other GM cars to drive and even to buy back cars if owners were afraid to drive their Volts. So far, 250 owners have inquired about those offers, GM said.