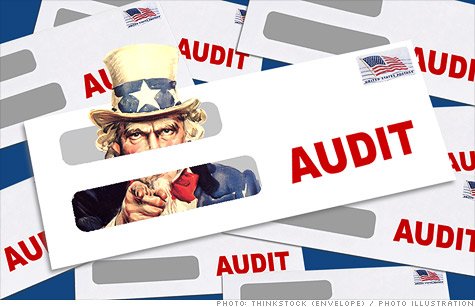 NEW YORK (CNNMoney) -- The IRS audited one out of every 8 millionaires last year, the third year in a row the agency has ramped up its enforcement of the nation's top earners.
About 12.5% of all taxpayers earnings one million dollars or more were dealt audits during fiscal 2011-- the highest enforcement rate since at least 2004, according to IRS enforcement statistics released Thursday. That's up from a rate of 8.4% in 2010 and 6.4% in 2009.
The IRS has been cracking down on offshore tax evaders over the past few years, many of which are high-income taxpayers, said Michelle Eldridge, spokeswoman for the IRS. So this ongoing push can be attributed to the big jump in audits of millionaires this year, she said.
This year, the agency offered taxpayers a reduction in penalties and no jail time for a limited window of time if they fessed up to having offshore accounts.
Taxpayers making more than $200,000 a year were also at a higher risk of audit last year. One in 25 of these high income earners were audited in 2011, compared to about one in 32 in 2010, according to the IRS.
But the odds of getting audited were significantly slimmer for people reporting less than $200,000 in income, with only one in 98 of these taxpayers going through the audit process last year.
A total of 1.6 million 2010 returns were audited during 2011, with 75% of those conducted by mail instead of in-person, the IRS said. Even though there was a significant increase in the number of millionaires audited, the IRS's enforcement revenue still slipped 4% to $55 billion last year.