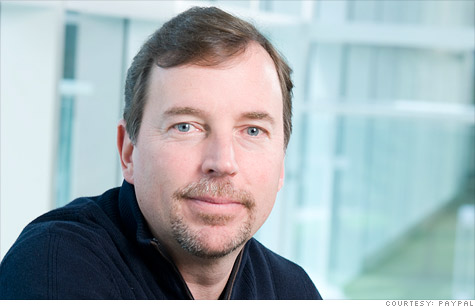 Yahoo's new CEO Scott Thompson faces a sharp uphill battle in trying to stage a massive turnaround.
NEW YORK (CNNMoney) -- Carol Bartz had a rough two years as Yahoo's CEO. She promised a turnaround for the aging Internet portal, but wasn't able to pull it off -- and was unceremoniously sacked by phone.
Yahoo's (YHOO, Fortune 500) trying again with new CEO Scott Thompson. The former PayPal president doesn't have much time to get Yahoo on the righteous path.
"A turnaround can be done, but it's going to take an enormous amount of time and effort," says tech analyst Rob Enderle of the Enderle Group. "I'm not convinced that the board or employees have the stomach to wait as long as they need to. This won't be easy."
Thompson, whose appointment was announced Wednesday and becomes official January 9, is facing an extremely uphill battle. Yahoo has lost two of its former business strongholds. It gave up on search two years ago, a market that it once led. It's also losing ground with its other cash cow, display advertising, to new entrants to the market such as Google (GOOG, Fortune 500) and Facebook.
Prospects are so bleak that Enderle thinks a true turnaround could take as long as four years. There's little chance Thompson will be given that much time to get results.
"He was probably the most experienced guy who they could convince to take the job," Enderle says. "He needs to set expectations: This is going to take a while, and you have to cut back to something you can rebuild."
Yahoo has started the legwork on that point, at least. It began winnowing its vast product portfolio in late 2010, killing off struggling services like its Buzz community news site and aging AltaVista search engine. Yahoo also thinned its blogs and sold off bookmarking service Delicious.
Amid the cutting, Thompson will have to answer a question that past execs have struggled with: What is Yahoo?
At the 2010 Web 2.0 conference, then-CEO Bartz offered up the answer: "We're a tech company, we're content, we're media, we're innovative."
A year later at the same gathering, a month after Bartz's firing, top Yahoo executive Ross Levinsohn took a whack at the same question. The company's mission is to "take the power of technology and [combine it] with the emotion of content," he said.
That answer could change under Thompson's management. Some pundits, including JPMorgan analyst Doug Anmuth, expressed surprise that Yahoo's board chose not to select a CEO with online media experience.
But Anmuth is heartened by Thompson's "very strong product and technology experience."
Thompson's track record at PayPal, a subsidiary of eBay (EBAY, Fortune 500), suggests "a renewed focus around products, platforms and advertising technology," Anmuth wrote in a note to clients.
Focusing on valuable data and a personalized online experience could boost Yahoo's sales of display and search ads, Anmuth added.
Yahoo for sale: Yahoo's troubles have made it a prime target for a buyout from private equity firms and tech behemoths alike -- and several groups of activist shareholders had pushed Yahoo's board for a sale.
Conventional wisdom says that Yahoo's move in hiring Thompson, an outsider, makes that possibility more remote. Fortune reported on Wednesday that Yahoo co-founder Jerry Yang and other board members have said privately that the board would not support a takeover offer.
But if Thompson's grand turnaround plans fail, Yahoo may not have a choice beyond finding a white knight to save it.
"Eventually a company can bleed its assets dry, and you either find a buyer or shut the doors," says Enderle, the tech analyst. "Investors don't have the tolerance for more shenanigans at Yahoo."