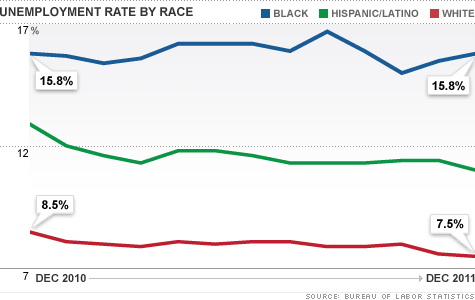 NEW YORK (CNNMoney) -- For the country as a whole, the unemployment rate fell in 2011. That's good news, right?
Not so much for African Americans.
As the economy slowly improved last year, the unemployment rate fell for both whites and Latinos.
But at the end of the year the black unemployment rate was 15.8%, exactly where it started out 2011, according to the government's December jobs report released Friday. That's a sharp contrast to the white unemployment rate, which fell to 7.5% last month.
The broad trend is unfortunately nothing new, said Bill Rodgers, chief economist with the Heldrich Center for Workforce Development at Rutgers University. The black unemployment rate has been roughly double that of whites since the government started tracking the figures in 1972.
But there's a new story emerging too.
Black men captured about 237,000 job gains in 2011, whereas black women actually ended the year with fewer jobs than they had a year ago.
Black men still have a higher unemployment rate overall, but their's at least improved -- while for black women, it got worse.
Rodgers attributes this trend to massive government job cuts during the year.
"Minorities and women are heavily concentrated in public sector jobs," he said. "With these major cuts we're seeing in public employment, you're going to see minorities pushed out of these jobs."
Overall, blacks accounted for only 9% of the nation's job gains during the year, even though they make up 12% of the civilian population, according to Department of Labor.