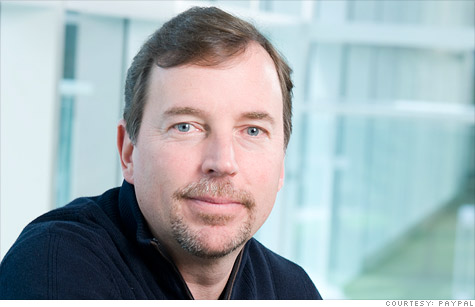 Thompson, formerly the president of PayPal, is eligible for millions in cash, stock and bonuses.
NEW YORK (CNNMoney) -- Yahoo's new CEO is poised to score a rich payday for taking on the troubled company. He's eligible for up to $26 million this year in salary, stock and bonuses.
Scott Thompson, formerly the president of PayPal, was appointed Yahoo CEO on Wednesday and will officially take the helm on January 9. He will try to pull off the kind of turnaround promised by the last Yahoo (YHOO, Fortune 500) CEO, Carol Bartz, who was fired by phone in September.
Thompson will receive a base salary of $1 million for 2012. He's guaranteed a bonus of at least $1 million, and it could be as much as $2 million if he hits various performance goals.
The contract, which doesn't lock Thompson into the role for any set number of years, also awards him lucrative stock grants. Thompson will get a grant this year valued at $11 million, plus an additional $5 million grant as a one-time hiring perk.
But that's not all. Yahoo will compensate Thompson for the loss of bonus and stock awards he would have received from PayPal (a subsidiary of eBay (EBAY, Fortune 500)). He'll get a cash bonus of $1.5 million, plus a grant of restricted stock units worth $6.5 million.
Of those restricted stock units, $5.5 million worth will vest on March 15. The remaining $1 million will vest in 2013 if Thompson remains in his position.
Thompson's hefty pay package, which Yahoo disclosed in a late-Friday regulatory filing, pales in comparison to Bartz's first-year windfall. Yahoo calculated her 2009 pay at $47 million -- though most of that is a paper gain based on stock options that may not ever pay out. The company has not yet disclosed how much it paid Bartz in severance, though Yahoo's earlier estimates put the figure at around $10 million.