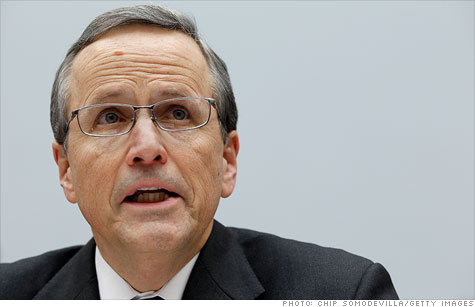 Fannie Mae CEO Michael Williams.
NEW YORK (CNNMoney) -- Fannie Mae CEO Michael Williams plans to resign, the government-controlled mortgage giant said Tuesday.

Williams, who took over as president and CEO of the troubled company in 2009, will continue as CEO until Fannie Mae's board names a successor.

The firm did not provide a specific reason for Williams' departure; in a statement, Williams said only that he had decided that "the time is right to turn over the reins to a new leader."

Williams will leave behind a firm still struggling to get its finances in order.

In November, Fannie Mae (FNMA, Fortune 500) reported a net third-quarter loss of $5.1 billion. The loss forced the firm to ask for another $7.8 billion in funding from the Treasury Department, a request that took its bailout total to $112.6 billion.

Federal regulators put Fannie Mae and fellow government-sponsored enterprise Freddie Mac (FMCC, Fortune 500) into conservatorship during the financial meltdown in September 2008. The sister companies now depend on government help to cover losses on the mortgages they own or guarantee.

In October, Freddie Mac CEO Ed Haldeman also announced plans to step down at some point this year.

Williams and Haldeman have faced scrutiny in recent months for their hefty paychecks, granted even as their firms rely on taxpayer support. The targets for their 2011 pay, which will include deferred compensation, are set at about $6 million a piece.

In December, the Securities and Exchange Commission charged six former executives of Fannie Mae and Freddie Mac, including former Fannie CEO Daniel Mudd and former Freddie chief Richard Syron with securities fraud. The SEC alleges that the executives misrepresented the firms' holdings of high-risk mortgage loans ahead of the financial crisis.