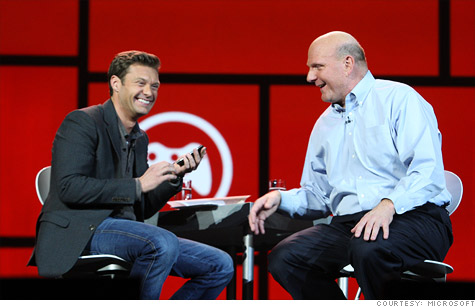 Microsoft ends its two-decade CES run with a stunt-packed event featuring Ryan Seacrest, and a few nuggets of news on Windows 8 and Kinect.
LAS VEGAS (CNNMoney) -- Microsoft's final Consumer Electronics Show keynote was short on news but long on flashiness -- complete with a gospel choir, Cookie Monster, Ryan Seacrest and an Auto-Tuned Bill Gates.
Microsoft (MSFT, Fortune 500) CEO Steve Ballmer kicked off the Las Vegas trade show Monday night with a keynote speech, as he has done for the past three years. It's a role he inherited from Microsoft founder Bill Gates, who gave almost a dozen CES talks over the past two decades.
But Microsoft said last month that CES 2012 would be its last, and the company focused its farewell chat more on spectacle than on new announcements.
The event opened with montage of Microsoft's past CES keynotes, set to the sweet synthesized sounds of Auto-Tune. Then Ryan Seacrest, the host of American Idol, took the stage, to loud cheers from a large entourage of Microsoft employees in the audience.
Ballmer joined a few moments later. The famously high-energy CEO was soon hugging and joking with Seacrest as they launched into a review of several of Microsoft's 2011 announcements, starting with Windows Phone.
A demo of Windows Phone hit a snag when product manager Derek Snyder tried to show off voice-to-text transcription.
"Sounds great," Snyder spoke into the phone.
"Sound," the phone transcribed, setting off murmurs and giggles from the crowd.
Snyder tried to smooth over the error, but when the whispering failed to die down, he concluded: "aaaaand everything works perfectly." Ballmer hooted and clapped from the shadows at the other end of the stage.
Executives recapped product announcements from earlier in the day at CES about new gizmos that run on Windows, including the Nokia (NOK) Lumia phone, Lenovo IdeaPad computer and Samsung Series 9 notebook. Microsoft Chief Marketing Officer Tami Reller previewed the upcoming Windows 8 and revealed that the software's public beta version will be released in late February.
The next segment was the most over-the-top: a "Tweet Choir" that featured a dozen gospel singers belting out the day's Microsoft- and CES-related tweets, set to song. That stunt elicited many camera flashes and much applause.
Audience members hoping for a high-octane performance from Ballmer weren't disappointed.
At one point, host Seacrest tossed out a question about the Xbox gaming console: "Did you expect, a decade ago, to go from ground zero to so much success?"
Ballmer fairly bellowed his response. "Yes! I was optimistic! I was bullish! I was patient! Xbox represents one of the best parts of our DNA. I not only thought so, but I bet on it a decade ago."
Also on the gaming front, Ballmer released one tidbit of new news: the Kinect gesture-control technology will be coming to Windows in February. Amazon (AMZN, Fortune 500) already has a listing up for "Kinect for Windows," with a February 1 shipping date and a $250 price tag.
Seacrest wrapped the chat with a forward-looking question: What's next?
Ballmer replied simply: "Windows 8 is what's next! There's nothing at Microsoft that's more important than Windows."