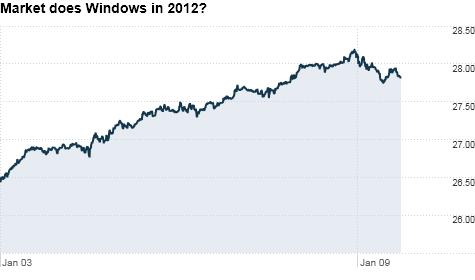 The year is still young, but shares of Microsoft are off to an impressive start.
NEW YORK (CNNMoney) -- Perhaps it's time for Microsoft CEO Steve Ballmer to develop a new monkeyboy dance?
Ballmer is set to take the stage at the Consumer Electronics Show in Las Vegas Monday night (for the last time) and he's likely to rave about Microsoft's Xbox and Kinect gaming devices and its upcoming Windows Phone with partner Nokia (NOK).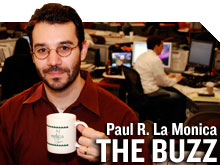 Cue the Gloria Estefan? (If you haven't seen Ballmer's famous 2001 pep rally speech to developers, please do yourself a favor and click here. It's an amusing 75 seconds.)
Ballmer may finally have plenty of reasons to repeatedly jump up and down again.
While Microsoft's stock has been stuck in the tech version of No Man's Land between value and growth for about a decade, investors have taken a liking to Mister Softee so far in 2012.
Shares of Microsoft (MSFT, Fortune 500) shot up more than 8% last week. The stock is now less than 5% below its 52-week high of $29.46. If the momentum keeps building, it's possible that Microsoft can finally surpass the $30 level that it's flirted with for the past few years but can't seem to crack.
Microsoft still may appeal more to the value crowd than investors craving sexy growth. The stock trades for only about 10 times earnings estimates for this fiscal year -- which ends in July. And earnings per share are only expected to rise 2% this year and 11% in fiscal 2013.
There's also that pretty big dividend. Microsoft yields 2.8%, nearly a percentage point higher than a 10-year Treasury if you're keeping score at home.
With $57 billion in cash, Microsoft could easily afford to keep boosting its payout for the foreseeable future.
"The stock is just too cheap and you have the dividend," said Gary Bradshaw, manager of the Hodges Equity Income (HDPEX) fund in Dallas. "It's been a dismal performer but Microsoft has grown earnings over the past few years and there's probably little downside.
The fact that Microsoft has been so unloved for so long could also mean that it may not take much for the stock to move significantly higher. Investors have grown accustomed to new product releases underwhelming the market. A big hit could go a long way.
"People say it's a PC stock and PCs are dead. You can't argue with that," Bradshaw said. "But there's still a lot of growth in emerging markets. And Windows Phone and Windows 8 are coming down the pike. It's got the potential to be a growth stock again."
There is, dare I say it, growing excitement about Windows 8, Microsoft's next operating system. That is currently scheduled to debut sometime later this year.
If early reviews of beta versions of Windows 8 for developers are to be believed, Microsoft may finally have some software that can help it in the rapidly growing tablet market. Apple's (AAPL, Fortune 500) iPad and the many devices running on Google's (GOOG, Fortune 500) Android are early leaders in tablets.
But hopes are high for Microsoft's tablet-ready Windows. That's because Microsoft has finally agreed to move beyond its heavy reliance on processor leader Intel (INTC, Fortune 500) and also embrace chips designed by ARM Holdings (ARMH), the U.K. company often referred to as the Intel of mobile semiconductors.
"Yes, it's an old stodgy technology company compared to others but you have plenty of exposure to growth areas like mobile, search cloud and gaming with Microsoft," said Ted Parrish, co-manager or the Henssler Equity Fund (HEQFX) in Kennesaw, Ga. "Rumors of Microsoft's demise are always greatly exaggerated."
Parrish owns the stock in his fund and said that he's hopeful Windows 8 will be as successful as Windows 95 was for Microsoft. That may be tough given the increased competition from Apple and others.
But Parrish owns Apple too. So he is hedging his bets in tech ... which is a pretty smart move for anyone looking to invest in a sector that can often be as unpredictable as Ballmer's dance moves.
Best of StockTwits: Alcoa (AA, Fortune 500) kicks off the earnings parade Monday but there's little excitement. And Bristol-Myers Squibb (BMY, Fortune 500) is buying hepatitis C drug developer Inhibitex (INHX) for a huge premium. That's got biotech investors thrilled.
bradloncar: I've never seen a company post decent earnings just a week after announcing a restructuring. Don't expect $AA to be the first today.
Agreed. In fact, I think earnings overall won't be as strong as many hope. For more about that, check out this column I did last week.
Cash_Cow: $BMY buyout of $INHX will get the funds buying up small cap pharmaceuticals trading at dead lows like $ANX $ARNA $HGSI $ABIO $SQNM $POZN
Investors need to be careful. There could be a feeding frenzy in biotech. (See next tweet) But many small cap drug companies are unprofitable and risky. Hence, they deserve to be trading at their lows.
EXPstocktrader: Roche is probably pissed that $BMY has stepped on a deal that they intended to Buy IMO and we may have a horse race here soon.
The BMY deal, combined with last year's purchase of Pharmasset (VRUS) by Gilead Sciences (GILD, Fortune 500), could mean that Big Pharma will try and buy up the other companies working on hep C treatments. Achillion (ACHN) and Idenix (IDIX) both surged Monday.
jfahmy: Movies, Drugs, and iPads are all up this morning...What else do you need really?
Coffee? Starbucks (SBUX, Fortune 500) and Dunkin' Brands (DNKN) are both down though. Oh well.
The opinions expressed in this commentary are solely those of Paul R. La Monica. Other than Time Warner, the parent of CNNMoney, and Abbott Laboratories, La Monica does not own positions in any individual stocks.