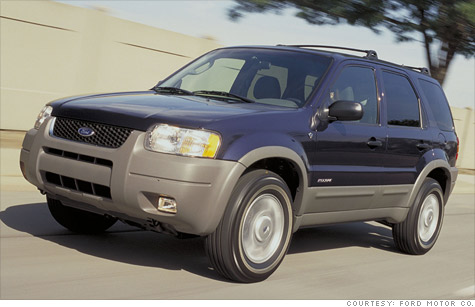 A 2002 Ford Escape, one of the vehicles in the current recall.
NEW YORK (CNNMoney) -- Ford announced a recall Wednesday of 450,000 older model minivans and SUVs for risks from fire and loss of power.
The affected vehicles are the 2001 and 2002 Ford Escape compact SUV, and the 2004 and 2005 Ford Freestar and Mercury Monterey minivans.
The Escape, of which there are an estimated 245,000 on the road, has a reservoir cap on its brake master cylinder that can leak brake fluid, which could lead to smoking or even a fire, according to the recall notice from the National Highway Traffic Safety Administration. (Cool cars from Detroit auto show)
The minivans, of which there are 205,000 on the road, have a torque converter output shaft that can fail, which can cause the vehicle to lose power, increasing the risk of a crash.
Ford (F, Fortune 500) spokesman Daniel Pierce said the company is aware of two minor accidents attributed to the minivan recall, with minor injuries reported in one and no injury in the other.
Pierce said he's not aware of any accident or injury involved in the Escape recall, only reports of property damage.