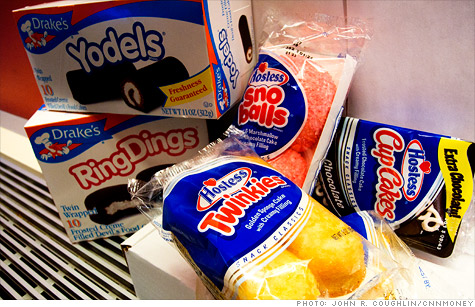 Hostess Brands, the maker of famous snack foods such as Twinkies and CupCakes, has filed for bankruptcy.
NEW YORK (CNNMoney) -- Rest easy, Twinkie lovers: Hostess Brands, the storied American manufacturer of snack cakes, filed for Chapter 11 bankruptcy Wednesday, but said it will continue to churn out Ho Hos, Ding Dongs and other iconic products.
"Throughout the proceeding, we're going to operate business as normal," said Hostess spokesman Erik Halvorson. "They'll keep making Twinkies."
The company, based in Irving, Texas, filed for Chapter 11 protection in U.S. Bankruptcy Court in New York. But Halvorson said the company does not plan to lay off any of its employees or close any plants. So the CupCakes and Sno Balls will keep on coming.
The company has about 19,000 full-time and part-time employees, including 10,413 hourly workers and 8,436 salaried workers, according to a court filing. About 83% of the employees are union members.
The company said that it pays about $63.2 million to its employees per pay period, and that it currently owes them $21 million for services rendered.
In its bankruptcy filing, the privately held company said that it owes more than $1 billion to creditors. The debt is spread out among a vast number of creditors -- between 50,000 and 100,000, the company said.
Pension funds feature prominently in the list of creditors.
The Bakery & Confectionary Union & Industry International Pension Fund has the largest claim, of $994 million.
The next largest claim, of about $12 million, is from Central States, Southeast and Southwest Areas Pension Plan.
Companies with claims include Cereal Food Processors, with a claim of $8.5 million, and Cargill, with about $2 million. Also among the creditors: temporary employment agency Manpower (MAN, Fortune 500), which is owed $754,000, and Goodyear Tire & Rubber (GT, Fortune 500), owed $552,000.
Hostess was founded in 1930, at the beginning of the Great Depression, which the company managed to survive. Many of its products eventually became iconic brands, cementing themselves in American culture. The Twinkie was even used as a metaphor for paranormal activity in the 1984 hit movie "Ghostbusters."
But more recently, Hostess' ability to compete was crippled by its "unsustainable cost structure," said Halvorson.
Hostess has been competing with snack cake makers including Flowers Foods (FLO), which makes Tastykake.
Published reports indicated that Hostess sought potential buyers, including Oreo-cookie maker Kraft Foods (KFT, Fortune 500) and Campbell Soup (CPB, Fortune 500)'s Pepperidge Farm.
Hostess has its own plethora of subsidiaries. These include Interstate Brands Corp., the producer of Drake's Ring Dings and Yodels, and Dolly Madison Bakery, producer of Zingers. Hostess also owns bread bakers such as Wonder and Nature's Pride.
Interstate Brands was formerly known as Interstate Bakeries. That subsidiary filed for bankruptcy in 2005, emerging from Chapter 11 in 2009. Layoffs occurred during that time and even since 2009, said Halvorson.
The job reductions took a toll on company morale, according to bankruptcy documents filed by Hostess on Wednesday.
"The employees have been witness to the closing or sale of several operations within the debtors' business as well as company-wide layoffs or reductions in force," the document said. "The increased pressures on the employees, together with layoffs and general concern about the welfare of the debtors, have led to a decline in employee morale."