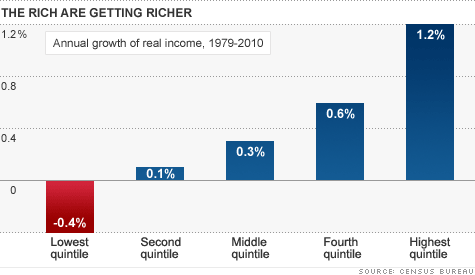 NEW YORK (CNNMoney) -- In yet another push to define the Democrats as defenders of the middle class, a top economic adviser for the Obama administration outlined Thursday the massive growth in income inequality and its ramifications on the nation.

Alan Krueger, chairman of the president's Council of Economic Advisers, said that inequality is now causing an unhealthy division in opportunities and is posing a threat to economic growth. Economic mobility has decreased and the middle class has shrunk.
"The economy would be in better shape and aggregate demand would be stronger if the size of the middle class had not dwindled as a result of rising inequality," said Krueger, speaking at the liberal Center for American Progress.
Krueger's remarks come a month after Obama unveiled what is likely to become one of the Democrats' main themes in the 2012 election. In a speech in Kansas, the president hammered home the growing divide between the classes.
Krueger, meanwhile, noted that more than half of American households had incomes within 50% of the median income in 1970. But that level fell to 42.2% last year.
And the wealthy have seen their after-tax income soar 278% between 1979 and 2007, while the middle class only edged up 35%, Krueger said, citing Congressional Budget Office statistics.
The gap has been fueled by the increase of automation on the job, which requires workers to have more education to land a good position. Krueger also cited the proliferation of high salaries in the financial sector, growing globalization and the decline in union membership as other factors.
And he cited the Bush tax cuts as another factor because they largely benefited the very wealthy.
Krueger used his speech as a platform to promote two of Obama's signature programs: The Affordable Care Act, which revamped the nation's health insurance system and is now under attack in the courts, and the American Jobs Act, which has largely gone nowhere. Both, he said, would help strengthen the middle class.
While the Republicans say lowering taxes is the key to economic revival, the Democrats are latching onto class warfare. A growing number of Americans are focusing on the economic divide, as evidenced by the Occupy Wall Street movement.
About two-thirds of the public believes there are "very strong" or "strong" conflicts between the rich and poor, a 19 percentage point increase since 2009, according to a Pew Research Center report released Tuesday.
This conflict now ranks ahead of the tensions between immigrants and the native born, blacks and white and the young and old, Pew found.