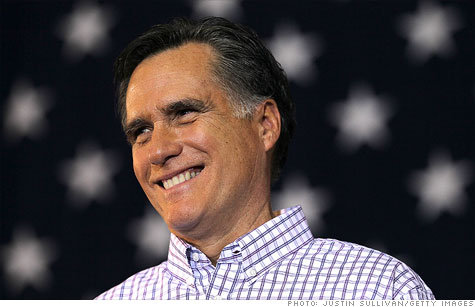 NEW YORK (CNNMoney) -- According to Mitt Romney, the nation's growing focus on income inequality is all about envy.
"You know, I think it's about envy. I think it's about class warfare," the leading Republican presidential candidate said Wednesday on The Today Show.
When asked if there are any fair questions about wealth distribution, Romney replied, "It's fine to talk about those things in quiet rooms and discussions about tax policy and the like."
Romney has accused President Obama of promoting the "bitter politics of envy." The president is ramping up his talks about the nation's growing income divide and the shrinking of the middle class. He is focusing on the tax benefits afforded to millionaires and executives.
Romney, who is one of those millionaires, is taking a different path. He says he's distancing himself from what he calls "a very envy-oriented, attack-oriented approach."
Instead, he is talking about making America a merit-based society, rather than an entitlement society.
"I believe in a merit nation, an opportunity nation where people by virtue of their education, their hard work and risk taking and their dreams -- may be a little luck -- could achieve great things," he said Thursday at a campaign rally in Florida.
A growing number of Americans are latching onto the idea of income inequality, which prompted thousands of people to participate in Occupy Wall Street-type protests around the nation last fall.
About two-thirds of the public believes there are "very strong" or "strong" conflicts between the rich and poor, according to a Pew Research Center report released Tuesday. That's up 19 percentage points since 2009.