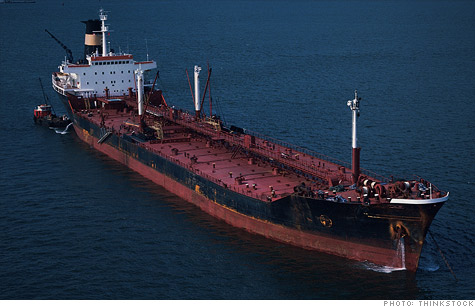 As Japan, South Korea and European countries wean themselves from Iranian crude, the country could be forced to sell its oil for 10% to 15% less.
NEW YORK (CNNMoney) -- Despite tightening sanctions on Iran's oil industry, experts say the country's crude should still flow -- but perhaps at a deep discount.
In fact, the bargaining has already begun, two analysts said.
China, the largest buyer of Iranian oil, has sharply reduced its imports from Iran over the past two months.
But it hasn't been in sympathy with U.S. efforts to pressure Iran on its nuclear efforts. Rather, China believes it can negotiate a lower price.
"This isn't about Beijing trying to be a good actor," said Trevor Houser, a partner at the international economics research firm Rhodium Group. "The Chinese are trying to get a better price on what is now a distressed asset."
Iran finds its oil in a state of distress thanks to tightening sanctions imposed by the United States, Britain and anticipated moves from the European Union.
As Iran loses customers, remaining clients like China can ask for a discount oil price.
Houser suspects Iran will ultimately have to sell its oil for a 10% to 15% discount, putting a significant dent in the government's budget.
"That's much greater than anything we've seen to date in terms of impact from sanctions," he said.
The U.S. sanctions basically say any bank that processes Iranian oil transactions will be barred from doing business in the United States. The sanctions are in effect but enforcement hasn't begun.
They are the toughest sanctions the United States has imposed on Iran's oil industry, which supplies the Iranian government with about half of its revenue.
Iran exports about 2.3 million barrels of oil per day, mostly to Asia. The world consumes about 89 million barrels a day.
The sanctions are designed to put financial pressure on Iran so it gives up its nuclear program, which Iran says is for peaceful purposes but many suspect is intended to produce a bomb.
Experts are mixed on whether the sanctions will actually work.
On Thursday Japan, the second-largest buyer of Iranian oil, said it will gradually shift away from buying Iranian crude. There were conflicting reports that India, Iran's third-largest customer, will do the same. European nations and South Korea are expected to wean themselves from Iranian oil over the next year.
In many ways this is a win-win situation for President Obama and European leaders. They want to hit Iran where it hurts -- in its wallet -- but don't want to cause an oil price spike that will have a similar effect on drivers in their home countries. Having Iran still supply the world with crude -- but at a lower price -- hits that goal.
"At the end of the day, the Obama administration doesn't want to fully implement" the sanctions, said Greg Priddy, an oil analyst at Eurasia Group, a political risk consultancy. "They want something that hurts them, not us."
Priddy agreed that Iran's oil will need to be sold at a discount.
But other analysts doubt these new sanctions will really hurt Iran.
Oil is an easily traded commodity. Iran can find buyers for its crude on the black market, through middle men, or from countries willing to flout the sanctions.
The sanctions could cause the price of oil to go up, so even if Iran does reduce the amount of crude it sells, it won't suffer financially.
"I don't think this is a serious blow," said Manouchehr Takin, an energy analyst at the Center for Global Energy Studies in London and a former executive in the consortium that ran Iran's oil fields under the Shah. "They might even gain revenue if the price goes up."