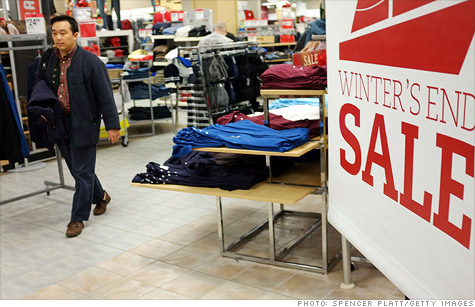 NEW YORK (CNNMoney) -- The economy may be showing signs of improvement, but consumers are still skittish about shopping, according to a recent report.
Retail sales are expected to rise just 3.4% to $2.53 trillion in 2012, the National Retail Federation said Monday. That's below 2011's pace, in which sales grew 4.7% over the course of the year.
The federation blamed a number of factors, including persistently high unemployment, stagnant wage growth, a weak housing market, shaky consumer confidence, inflation and high oil prices.
The forecast comes on the heels of a modestly successful holiday season in which retail sales rose 4.1%. That was above the retail group's expectation, but still lower than the 5.2% increase notched in 2010.
Although retailers declared the shopping season a success overall, strong sales were not shared across the board. Luxury stores such as Saks (SKS) fared very well, but discounters and stores geared toward cash-strapped shoppers in the middle and lower income brackets struggled.
Stores such as Target (TGT, Fortune 500) and Best Buy (BBY, Fortune 500) had to rely heavily on discounts and promotions to lure shoppers, which does not bode well going forward.
All those half-off sales will take a toll on margins, which were already narrower than they were a year ago because of the rising cost of materials and transportation.