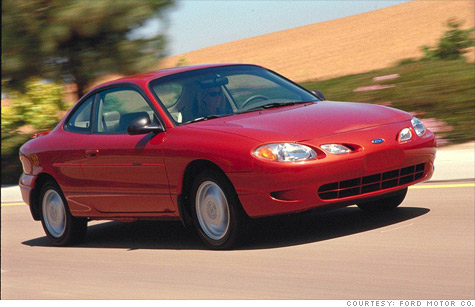 The average car on America's roads is almost 11 years old, about the same age as this 2001 Ford Escort ZX2, photographed when new.
NEW YORK (CNNMoney) -- The average vehicle on America's roads is almost 11 years old, according to the auto market analysts at Polk.
The 10.8-year average is the highest figure recorded since Polk began tracking vehicle age in 1995. Back then, the average was just 8.4 years.
Vehicle age has increased rapidly over the last five years as new vehicle sales have slowed. Polk's analysis is based on vehicle registration data.
Older cars represent an opportunity for some businesses.
"Dealer service departments and independent repair facilities, as well as aftermarket parts suppliers, will see increased business opportunity with customers in need of vehicle service," said Mark Seng, global aftermarket practice leader at Polk.
With vehicles getting older, fewer cars are covered under their original factory warranty, said Seng. That presents a challenge for auto dealers to bring those customers back into the dealership service department.
The number of cars under warranty is now the lowest it's been in the last 12 to 15 years, he said, and drivers whose cars aren't under warranty tend not to go to the dealer.
Chrysler Group, maker of Chrysler, Dodge and Jeep vehicles, has been particularly aggressive in separately promoting its Mopar parts and service brand.
Bryan Zvibleman, a spokesman for Mopar, said the company has made a number of changes to capture business from customers with older cars.
Chrysler Group dealers now offer Saturday service hours in 80% of their locations, Zvibleman said, and a third now offer "quick service" lanes. Mopar has also introduced a line of low-priced parts and has partnered with auto parts maker Magneti Marelli to sell parts and service for non-Chrysler vehicles through Chrysler dealerships.
A decrease in annual miles driven, tied to the struggling economy, has somewhat offset increased demand for car parts, said Mike Odell, chief executive of the Pep Boys (PBY) parts and service chain.
Still, Odell said, the aging fleet has been good for business.
"The older a vehicle is, it's more likely things wear and tear, and there's more parts to be replaced," he said.
The improved quality of cars has a lot do with the aging fleet, Seng said. As a percentage of cars on the road, those less than three years old have decreased while those over 11 years old have increased, he said, an indication that people are now comfortable driving very old cars.
Increased new vehicle sales this year and last will probably slow down the aging of America's vehicle fleet.
America's total population of cars and light trucks had been declining since 2008, but that turned around last year. As of July 2011, there were about 240.5 million cars in operation, a rebound from about 240 million the year before. But that's still lower than the more than 242 million cars on the road in 2008.
The aging fleet means there's still a lot of pent-up demand for new cars, said Seng.
In addition, people's needs are changing and that will result in more car sales. "We see the crossover SUV and SUV segments really beginning to take off," he said.