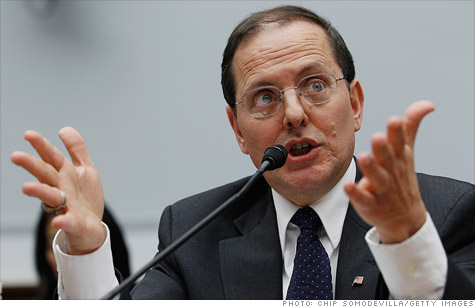 FHFA head Edward DeMarco testifies before a Congressional committee last year.
NEW YORK (CNNMoney) -- The next CEOs at Fannie Mae and Freddie Mac are unlikely to receive the controversial, multi-million dollar pay packages given to their predecessors, the companies' regulator said Tuesday.
"[We] anticipate a substantial decrease in CEO compensation when the new CEO's are hired," said Corinne Russell, a spokeswoman for the Federal Housing Finance Agency, which sets pay at Fannie and Freddie.
The troubled government-backed firms, which have required more than $100 billion in bailouts, came under scrutiny last year over the lucrative bonuses they granted to their executives even as they drew on public funds.
Lawmakers called the bonuses excessive and unjustifiable, though Edward DeMarco, acting director of the Federal Housing Finance Agency, defended them as necessary to retaining top executives.
FHFA changed its tune on Tuesday. However Russell did not offer specific pay package figures or respond to follow-up questions.
Current Fannie and Freddie CEOs Michael Williams and Ed Haldeman have their 2011 pay targets set at about $6 million a piece, a total that will include deferred compensation. Both men have announced plans to step down at some point in the coming months.
Spencer Bachus, chairman of the House Financial Services Committee, called the FHFA's announcement on executive pay "welcome, but long overdue."
"The fact that the top executives of these two failed companies receive multi-million dollar pay packages and bonuses -- all courtesy of the American taxpayer -- is a continuing outrage," Bachus said in a statement Tuesday.
Lawmakers in both the House and Senate have introduced bills to curb executive pay at the troubled mortgage finance companies.
Of the billions in bailout funds received by Fannie and Freddie, at least $95 million has gone to pay packages for top executives, filings showed last year.