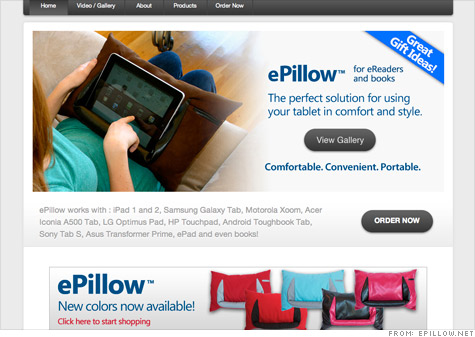 Wal-Mart's "Get on the shelf" contest lets anyone submit a video of their product or invention. Renee Anderson, designer of the ePillow, has already entered.
NEW YORK (CNNMoney) -- Wal-Mart has launched an "American Idol"-like contest to find the best new products.
For the first time, the world's largest retailer is giving any small business, entrepreneur or individual inventor a shot at winning a spot on its store shelves nationwide and virtual shelf space through walmart.com. The contest is called "Get on the shelf."
Similar to the popular reality show "American Idol," Wal-Mart (WMT, Fortune 500) said contestants can enter any product category that it already has -- ranging from toys, electronics to clothing and household goods. They then can create and submit videos of their latest inventions at www.GetOnTheShelf.com.
The discounter said the public will then vote online for the top three winners at GetOnTheShelf.com. The three will be sold on walmart.com. But the top winner will also automatically get shelf space in select Wal-Mart stores around the country.
This kind of public contest is an unusual departure from how Wal-Mart typically picks products for its store.
Wal-Mart is notoriously strict with its merchandise selection process, usually requiring vendors to meet with its in-house buyers at Wal-Mart headquarters in Bentonville, Ark., in small rooms lining a bluish-gray corridor that's unofficially referred to as "vendor row."
Vendors keen to score a deal with Wal-Mart get a strict hour or less to pitch their products and convince Wal-Mart buyers about why they should stock them.
"For a long time, the ability to get a product into a retail store was at the sole discretion of the store buyer," said Venky Harinarayan, senior vice president of Wal-Mart's global e-commerce unit.
"Today we are removing these barriers by giving anyone the chance to launch their product at Wal-Mart and reach millions of shoppers nationwide," he said.
Although Wal-Mart officially announced the contest on Wednesday, the retailer has quietly been getting the word out since late December and has already received more than 60 entries.
Among them, an iPad pillow from ePillow, Ugg (DECK)-like boots for dogs and a locking device for your soda bottle, so no can sneak sips behind your back.
Wal-Mart said people can submit their video pitches until Feb. 22. The contest is open only to U.S. participants. The first round of voting will happen between March 7 and April 4 to select 10 finalists.
The second round of voting between April 11 and April 24 will determine the top three winners.
Chris Bolte, vice president of @WalmartLabs, said Wal-Mart hopes to quickly stock the top winning product at its stores.
"But the timeframe really depends on the business behind the product," he said. "A small business, medium-sized business or individual inventor tend to be at different points of production."
Bolte said Wal-Mart will help the winning companies, if they need it, with production and distribution assistance to ramp up production in order to meet Wal-Mart's quantity requirement.
And depending on the contest's success, Wal-Mart will decide on whether or not to repeat it, he said.
"At the end of the day, we're hoping to uncover products that we haven't been looking at and give consumers a voice about what Wal-Mart carries," he said.