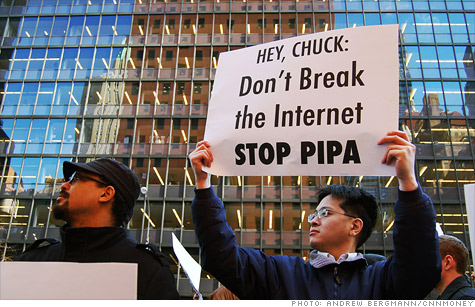 Hundreds turned out for a New York protest against SOPA and PIPA, a pair of controversial anti-piracy proposals.
NEW YORK (CNNMoney) -- While Internet giants staged a massive online protest against proposed anti-piracy legislation, hundreds gathered in New York for an in-person show of opposition.
Members of the New York tech community massed outside the offices of U.S. senators Charles Schumer and Kirsten Gillibrand on Wednesday afternoon in a protest coordinated by NY Tech Meetup, a local networking group.
"We're here to make sure our senators know that the New York tech community, which employs tens of thousands of people, really will not take no for an answer," said Nate Westheimer, one of the protest's organizers. "The provisions that are being suggested right now would undermine the way the Internet works."
Similar protests are scheduled to take place Wednesday in San Francisco, Seattle and Washington, D.C.

The online and offline protests are aimed at a pair of bills currently under consideration in Congress: the House's Stop Online Piracy Act (SOPA) and the Senate's Protect IP Act (PIPA). The bills aims to crack down on copyright infringement by restricting access to sites that host or facilitate the trading of pirated content. (Click here for our explainer: What SOPA is and why it matters.)
Supporters, including CNNMoney parent company Time Warner, say measures like SOPA and PIPA are needed to crack down on rampant online piracy. Opponents counter that the bills are full of vague and broad mandates that could wreak havoc on the Web.
That's the line taken by those who turned out for Wednesday's protest in New York.
"We showed up because we think Congress is misinformed about the gravity of what they're proposing," said protester Dan Herman, the founder of business software maker ChatID.
Sebastian Delmont, the "chief geek" at real estate website StreetEasy, said he came "because I want to save the Internet."
Waving a placard with an anti-PIPA poem on it, he added: "Proponents of the bill say, 'Well, what is the alternative to piracy?' We've shown them over the years. It's iTunes, it's Netflix. People pirate for convenience. When they have cheap options that are convenient, they don't pirate."
Senators Gillibrand and Schumer released a joint response to the protest.
"There are two important issues in this debate: continued freedom of expression on the Internet and the ability to block online piracy. We believe that both sides can come together on a solution that satisfies their respective concerns," they said in a written statement.
The pair of anti-piracy bills have sparked an all-out war between Hollywood and Silicon Valley. The legislation enjoyed rare bipartisan support and had been on track for a quick passage until the tech industry mounted a fierce opposition. Now the bills have turned almost toxic in Washington.
"We're at a tipping point," a Senate Democratic aide told CNN on Tuesday.
"It will either become a huge issue or die down a bit, and that will determine the future of this."
Schumer, who sits on the Senate Judiciary committee, voted in favor of PIPA in May when the committee approved the bill and sent it on to the full Senate for consideration. That vote was unanimous, with complete bipartisan support.
PIPA is currently slated for a Jan. 24 vote in the Senate, but the massive blowback from the Internet community has many lawmakers reconsidering. Six senators who backed the bill in May sent Senate Majority Leader Harry Reid a letter last week asking him to delay the vote.
"The process at this point is moving too quickly," they wrote. "We have increasingly heard from a large number of constituents and other stakeholders with vocal concerns."
That's exactly what those protesting on Wednesday hoped to get across.
Local tech leaders, including Google (GOOG, Fortune 500) head of public policy Andrew McLaughlin, Reddit founder Alexis Ohanian and tech writer Clay Shirky, made speeches at the protest, while the crowd chanted slogans including: "This is what democracy looks like."
That's a rally cry that's also popular a few blocks further south, at New York's Occupy Wall Street protest.
"This might be a very big turning point for people," said rally coordinator Westheimer. "As the generation of technologists you see today get a little bit older, you're definitely going to see them get more in politics."
-- CNNMoney tech editor Stacy Cowley contributed to this report.